Text
May 20, 2019
Written by Kaitlin Berger, Radiologic Technologist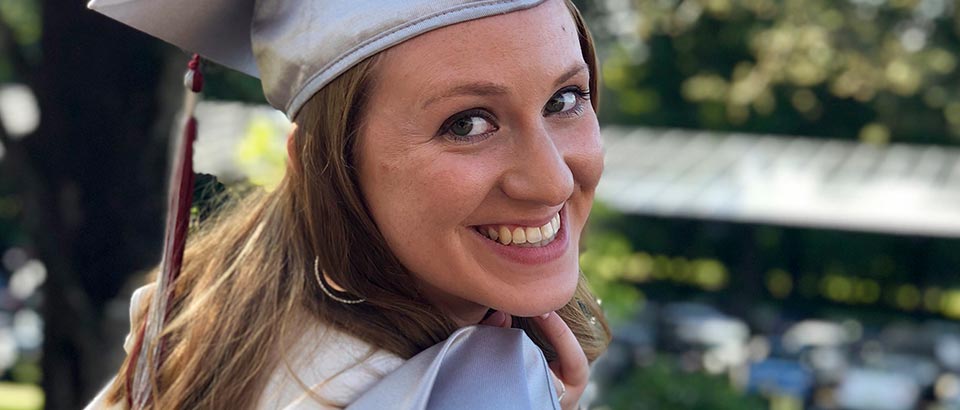 With my diploma in hand, I was ready to embark on a new journey and start my career as a radiologic technologist (rad tech or RT for short). I was determined to find an organization that aligned not only with how I wanted to practice medicine, but one that I could actually call home. As I searched for job opportunities for rad techs before graduation, I found there were a lot of great options – there were opportunities in hospitals, urgent care, and specialty settings. Although I enjoyed my time doing clinical rotations in hospital settings while I was in school, I was ready for a change of pace and wanted the opportunity to be exposed to other areas of medicine. After plenty of research, I found that urgent care seemed to be a perfect match – and that's how I found MedExpress.
Behind the Scenes as an RT at MedExpress
I was offered a position at MedExpress shortly after graduation in September of 2018. I was so eager to take everything that I had learned in school and apply it in an urgent care setting in my local community. And, much to my excitement, my first day on the job was nothing short of amazing. Everyone was incredibly welcoming, the center was so modern and clean, and my new manager was very supportive. This made for an easy transition into my new role and left me feeling eager to build my career here. I still remember how happy I felt the day that I received my official MedExpress nametag. As small as it sounds, it was the first time I saw my name next to my new title: RT. After working so hard, it was rewarding to finally see it in writing.
MedExpress has a large presence in New Jersey with multiple centers in my area. After a few months getting comfortable in my "home center," I had the opportunity to work with teams in other centers, too. Not only did this give me the chance to work with other people, but I also had more flexibility to pick up additional shifts if I wanted. My favorite part, though, was extending my "MedExpress family." I can truly say without a doubt that the people I've worked with have become more than friends – they're family. It's rewarding to see how well we work together and work towards the same goal of giving our patients the best care possible. Plus, when you're working with some of your best friends, work doesn't even feel like work anymore.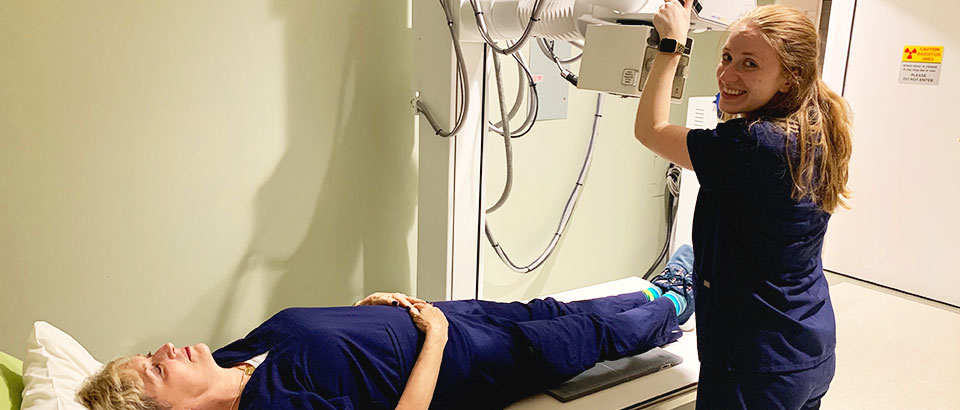 The interaction that I get to have each day with patients in our centers is a constant reminder of why I chose this career. I love when I am performing an X-ray on a patient and I get to spend that one-on-one time making a difference in their day. I went into this field because I know that sometimes getting an X-ray can be scary and stressful. A patient is typically in pain and worrying about all the possibilities about what their diagnosis could be. Being able to provide support and talk with them to help take their mind off the situation, all while putting a smile on their face, is what I try to do with every patient I see.
Building the Skills for Career Success
MedExpress is a great place for new graduates to start out in their RT careers. They offer great support, hands-on training, and so many additional ways to build your skillset outside of being an RT such as assuming additional clinical responsibilities like taking vital signs, wound care, and employer health services. I think what sets MedExpress apart for new graduates is that center leaders do a great job of providing the proper training and support in the first few months a new graduate needs to make sure you are fully comfortable to work independently in the center. I would recommend MedExpress to other new graduates or those soon-to-be graduates. Not only will they love working here, but new graduates will also get the chance to strengthen skill sets and gain additional clinical exposure that they can't teach in the classroom. It's this exposure and opportunity that has definitely instilled more confidence in myself as a clinician. 
Advice for Finding Your Perfect Fit
Finding your dream job can be tricky and a little bit overwhelming at times. There are so many job boards, networking events, and career fairs out there. The truth is there are many opportunities for graduates, and you just have to look in the right places. I found two websites – Linkedin and iHireRadiology – really helped me on my job search. They help you sort through the postings and narrow down your options. Using the company websites and looking under their career options is also a great tool – and it's actually how I found my job at MedExpress! The experience finding a role on MedExpress.com was so simple. It was intuitive, easy to navigate, and had a ton of content that really gave me a glimpse into what life is like as a team member. I was able to find an opening that best fit what I was looking for and applied. If anything, I would say starting at the employer's website is always a good first step. It also allows you to learn more about the business and who they are before submitting an application.
Transitioning from a full-time student to a full-time employee can be a big adjustment. Sure – it's exciting and brand new, but I found it challenging at first to fully understand what I wanted in a career outside of the day-to-day responsibilities. Things like work-life balance, commute time, flexibility were never fully on my radar to consider when looking for a job. Now that I've been working for some time, I see now that it's important to think about those things, too. By taking into account your drive time to work and what work-life balance may look like, it certainly helps make the transition easier from being a student to working.
But my biggest piece of advice for new or future graduates is this: love what you do. Don't take a job just to take one.
It's important to take the time to research an employer and have a solid understanding of who they are, what they offer, and if you would be a good fit there. I'm so thankful I found my perfect fit in MedExpress and I look forward to what opportunities lie ahead for me here.
Kaitlin Berger is a Radiologic Technologist who works at our centers in Ledgewood and Cedar Knolls, NJ. When she's not busy making a difference for patients, she loves working out, doing CrossFit, and spending time with her adorable pup named Honey.