Text
September 30, 2019
Written by Marcus DeMaiolo, Area Manager of Business Operations 
I can remember it as if it were yesterday. The moment that shaped what would be the most fulfilling and challenging career path that I had never imagined for myself. While attending college at West Virginia University (let's go Mountaineers!), I wasn't feeling well one day and my roommate took me to MedExpress. From the moment that I walked in the door until when I left, the care that I had received was unlike anything I had experienced before in a medical setting. The team truly sold me on their quality medical care, compassion, and prompt service. It was from that experience that I left thinking, "Wow, I really want to work for this company." 
Front Office Assistant – The Start of My Healthcare Career 

As someone who loves warm weather and sunshine, I wanted to kiss the winter weather goodbye and move out of West Virginia. Florida was an obvious choice for me because I have family spread out throughout the state and I've always wanted to live there. In 2012, I made my dream a reality and started part-time at one of our centers in Tampa as a front office assistant. At MedExpress, the front office assistant (FOA) is often the first person you see when you walk in the door as a patient. As an FOA, I was responsible for checking patients in and out, filing their paperwork, and making sure they were comfortable while they waited to be seen by a provider.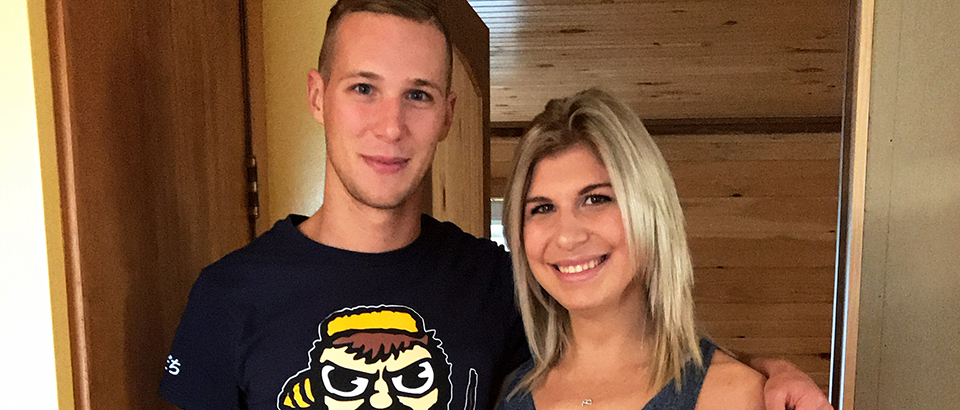 Starting as an FOA was a great way to be able to truly learn the ins and outs of the business, daily operations, patient processes, and set a solid foundation for my medical knowledge. During my time in this role, I had the opportunity to learn and master new systems that MedExpress was implementing in several of its Florida centers. After spending quite some time getting to learn how to use the systems, I was able to serve as a helpful resource for my peers who had questions. I was able to travel to other centers in the area and provide hands-on training to others learning the systems. This is a great example of how, at MedExpress, if you work hard, focus, and continue to challenge yourself to learn – the doors for opportunity will open. 

That door continued to stay open for me when I transitioned into my first management role as a Center Manager (CM), where I got to oversee the daily operations and team performance. Working in the centers is something that I loved and still love to this day. The centers are my happy place. As a CM, there is nothing more rewarding than being able to see the team (who are more like family) you built navigate and work through a busy, complex day. You really get to see first-hand how you have helped professionally develop and grow those team members so that they can provide an exceptional experience for the patient. It's amazing to be able to influence them to provide the same experience I received as a patient years ago. 
How Working in the Center Made Me a Stronger Area Manager 
Fast forward several years, and I am still happily working for MedExpress as an Area Manager (AM). In this role, I oversee multiple centers in Florida and work closely with center managers to make sure that the daily operations are running smoothly, as well as coach them on how to develop and grow their team. Having an FOA and CM background has helped me tremendously in my current role. I have the background and knowledge of patient registration, which helps me understand what our FOA's are asked to do, and the appropriateness of the goals and expectations we set for them. In my prior experience as a CM, I learned time management skills, which enable me to be more efficient today. Having worked in both capacities, I have gained a great deal of knowledge. I have empathy for the busy days our teams experience on the floor, and am an advocate for their suggestions and recommendations. 
For Those Starting Out in Their Careers at MedExpress 

I could go on for hours about when it comes to giving advice on being successful in this organization. However, I think it all boils down to these simple tips. Work hard. Be a reliable team member for your CM. Excel in your metrics, set goals for yourself, and work hard to achieve them. Always let your leaders know what your career goals are. Lastly, but certainly not least, have an upbeat, friendly, energizing personality with your team members and patients. Above anything else, personality is what makes you shine! 
One of the most valuable lessons that I've learned during my time at MedExpress is to challenge yourself to grow in this organization. 
I've learned to always express interest and say yes to projects, events, and other opportunities that may present themselves. In any role that I've had, I've found that if you work hard each day, opportunities will come knocking on your door! 
Joining the MedExpress team is a decision you'll never regret. I've gained such a great support system and have built relationships that will last forever. It's these two things that I believe set MedExpress apart from other career opportunities. There have been so many people along the way who have helped set me up for success. I always feel I have a resource to go to when I have questions. It's a refreshing feeling knowing that there is someone who I can go to easily when needed. I am so grateful for my opportunities with this company, and look forward to many more years.
Marcus DeMaiolo is an Area Manager in Florida for MedExpress who loves working alongside his centers to provide great patient care. He loves to travel and has been to several countries including Spain, Argentina, and Australia. He's also an expert chef who's set on mastering his Italian grandmother's recipes and one day make them just as good as she does.