Text
May 21, 2018
Written by Tracie Dilliner, Nurse Practitioner, MedExpress
In the first half of my career as a nurse practitioner, I spent 12 years working in a large family medical practice setting. It was a collection of family practitioners that all worked together to share the facilities and costs of renting. While I enjoyed building long-lasting relationships with patients and treating many generations of family members, I couldn't help but wonder what new skills and opportunities were out there for me to explore as a nurse practitioner. After doing some research, I was very intrigued by what a career in urgent care could offer and the potential work-life balance and schedule flexibility that I could enjoy.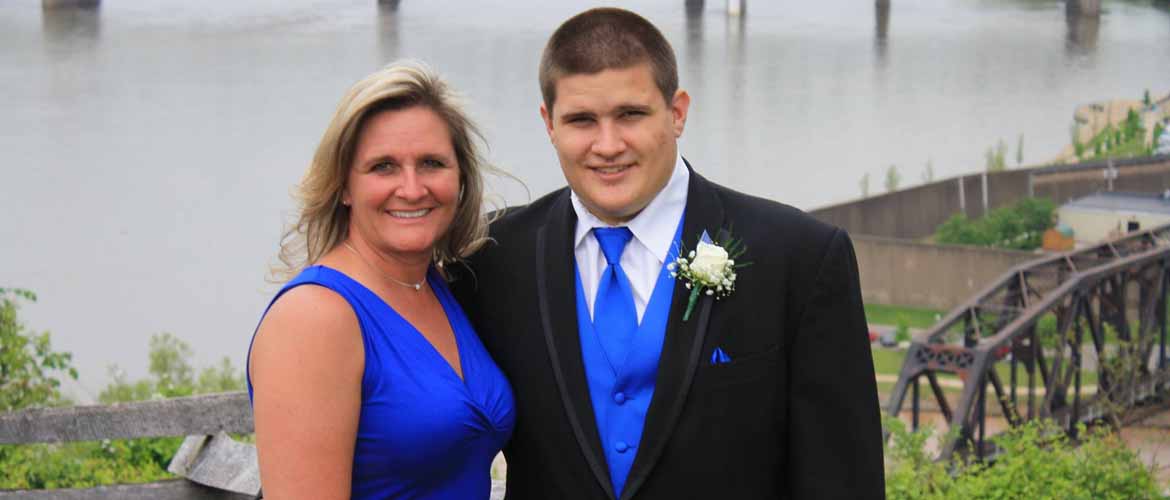 Tracie Dilliner with her son
I finally chose to make the change in my employment and accepted a position with MedExpress over ten years ago, and I am so glad that I did. One of the great benefits to working in urgent care is that it gives providers freedom – reducing the burden of usually being the sole practitioner without any back-up coverage to help on those busy days. At MedExpress, patients are treated by a team of multiple providers who work collaboratively to see patients, notify patients of test results, and call patients after their visits to answer any questions they may have. The level of teamwork that is fostered in MedExpress centers is amazing. I know I can count on my team, and that there is always someone there to help me out when I need it most.
A Glimpse into My Typical Day at MedExpress
Let me start by saying that no two days are ever the same, and that's part of what keeps me on my feet as a nurse practitioner.
Each and every day, the centers at MedExpress open at 8 a.m. to provide convenience and easy access to care for patients. I usually try to arrive at the center a little early so that I can spend some time with my team before we get started for the day. In the center, we're so close and more like a family to one another, so I always enjoy being able to catch up with everyone at the start of my morning. It's also nice to catch up, because with the flexible scheduling at MedExpress, it may have been awhile since you worked with someone on your team.
Depending on how many patients there are to see when we open, I usually spend my morning reviewing labs and calling patients back regarding their test results. From a documentation standpoint, MedExpress is mostly paperless, so this enables me to access any chart easily at the touch of a keyboard. Our system is able to update medications and patient information sheets, including online information, which makes it easy to get this work done efficiently.
When I've done all my follow ups, my focus switches to seeing patients. Typically in the morning, I see many school-aged children because parents are waiting to be seen first thing before they decide if they should go to school that day. One of the best things about working a day at MedExpress is that truly no two days are the same. The variety of care I get to provide each day challenges my skills and strengthens my knowledge as a provider. Throughout the rest of the day, I see a variety of patients for things like occupational medicine, physical examinations, and a wide range of minor illnesses or injuries. From time to time, I'll have some cases that are more critical than MedExpress can completely address, and I facilitate and recommend the required follow-up care that a patient may require, such as a visit to a specialist or the emergency room, as necessary. After a full day of seeing patients, my day typically winds down when we close at 8 p.m. There are times when patients may come in near closing time, but I am always happy to care for them if it means that they don't have to worry throughout the night and can get back on their way to feeling better. After all, that is why I chose this career path, to help and care for others no matter what.
A Rewarding Career – Delivering Patients Some Peace of Mind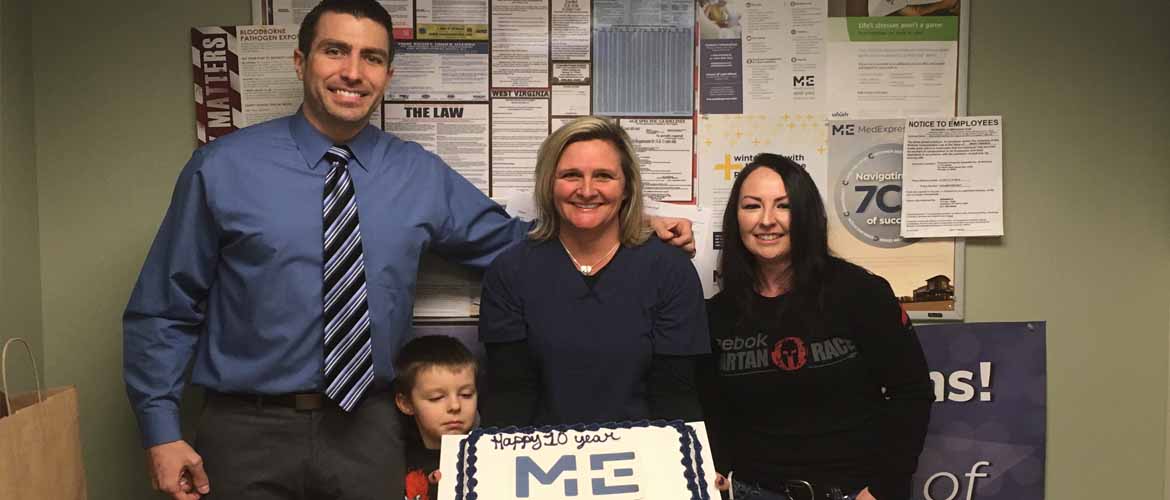 Tracie Dilliner (middle) celebrates her 10th work anniversary with MedExpress
One of the greatest feelings, and what I find most rewarding about the work that I do, is that I can offer relief to patients who may have been up all night worrying about what was wrong, and I can begin to help them feel better. The gratitude that patients express because of this, and the fact that they were able to see a provider at a moment's notice, is one of the key reasons why I love what I do.
Looking Forward – Helping to Innovate Medicine
Over the last decade with MedExpress, I have learned some invaluable lessons as a provider. It has opened my eyes to new healthcare trends and how an organization should focus their growth and innovation on providing patient convenience and access to high-quality care. It is so refreshing to work alongside providers and leaders who are constantly researching new trends and collaborating with their team members on how they can deliver better quality services according to the changing landscape of health care. As MedExpress continues to grow and expand their services, I'm excited, proud, and extremely fortunate to be able to play a part in this change.
Tracie Dilliner is a nurse practitioner at the MedExpress center in South Parkersburg, WV. She's a lover of all things outdoors, including golfing and boating. Australia is at the top of her bucket list for a dream travel destination.