Text
July 30, 2018
Written by Jessica Speer, Registered Nurse, MedExpress
As another 12-hour shift passes, I cannot help but reflect on my past nine years as a registered nurse (RN). It hasn't always been an easy journey. There have been days when I have cried; days when I have felt defeated and alone – even questioned why I chose nursing as a career, especially in my first few months as a nurse. But for every bad day, there is a great one that picks me right back up. In my experience as a nurse, there has always been a patient that was beyond thankful and appreciative of the few extra minutes I spent with them explaining their new blood pressure medication; going over how to administer insulin to a newly diagnosed diabetic; providing a quick nebulizer treatment to the asthmatic in respiratory distress. Those are the moments that make it all worth it.
Becoming Jessica Speer, RN

Growing up, I always had a passion for helping others and loved being able to serve my community. I started as a volunteer in our local hospital, which steadily grew my interest in the nursing field. During nursing school, I got a job as a nursing assistant, where I gained hands-on experience in the field, and sometimes was even lucky enough to sit in on procedures and shadow other nurses at the bedside. It was in this role that I quickly developed a love for the healthcare field and grew my enthusiasm for helping others.
But it was as I was taking care of my sick grandfather during his very last moments battling cancer that I realized my true passion for the field of nursing. It was such an honor to be the one at his bedside caring for him in those final moments, and I wanted to be able to provide the same gentle and nurturing care to other patients and their families during those very same emotional and difficult times.
Where I've Been and Where I'm Going

During my nursing career, I have worked in a variety of settings – everything from nursing homes and primary care settings to urgent care and a post-op (open heart) cardiac floor in a busy nearby hospital. I have loved all of my jobs throughout my career because each taught me something new about this special field that I love and admire. All of these experiences have turned me into the nurse that I am today. Strong, independent, and determined.
Out of all of the various fields that I have worked in, however, my favorite so far has been my work as a nurse in the urgent care setting. I currently work as a full-time RN at the Cedar Knolls MedExpress Center in northern New Jersey. Ever since my first day at MedExpress, I have felt welcomed and a valued member of the team. I love that MedExpress values Genuine. Caring. Friendly.® attitudes – all of which are extremely important to me as a person, but even more importantly, as a nurse. Every day, I see patients when they are facing illness and injury, which can be incredibly stressful and trying. That's why I find these values to be so important for nurses – because a nurse is a patient's rock in times of need; a warm smile when they're scared; a soothing voice to ease their worries.
With urgent care, each day there is something new. I love the variety of patients that I get to know at my job in urgent care. Things are constantly changing, and I am always learning and challenging myself. On a day-to-day basis, I am able to help control the bleeding of a patient who just cut himself or help soothe a child who is crying due to a high fever. I can brace an ankle after an injury, as well as provide some relief to the patient who just pulled her back out. I have even had the opportunity to develop the knowledge to be able to triage patients quickly and safely.
One Big, Happy Work Family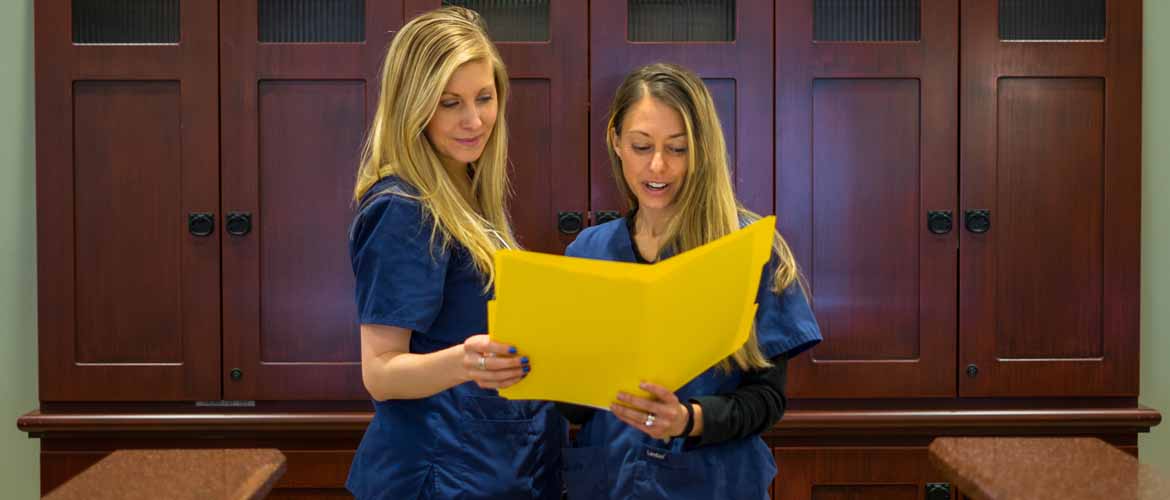 Jessica Speer (left) reviewing documents with Dr. Rebekah Marquis, DO
I have worked for MedExpress for three-and-a-half years now, and I have to say that I am extremely happy here. My flexible schedule allows for the perfect work-life balance, and I am able to stay home with my first-born son, Landon, four days a week, while still playing an important role in providing for my family. I also love that I can arrange my schedule to have multiple days off in a row – which allows me to take short, weekend trips to the beach with my family, while still maintaining my full-time status. I also realize that, for many, it often feels like the job of a nurse is never done. But because MedExpress cares not only about its patients – but its employees, too – I'm able to spend Thanksgiving and Christmas with my loved ones and not miss a second of the holiday magic with my son.
MedExpress is the workplace I call home, especially considering my coworkers and I work long shifts and spend so much time with each other. I cannot say enough about my team and the providers that I work with. In fact, a few of my co-workers and I have been working together since my first day at MedExpress. I have even watched one of my close co-workers develop from fellow colleague to a center manager who I respect and admire.
We know each other so well that we are like a big family when we are all together. It always makes me laugh to think about the time New Jersey weather got the best of us, and we were snowed in and spent the night in the center – I'll never forget that! I finally found a job that I love coming to each and every day. I stand behind the company vision of providing Great Care. Fast.®, while exceeding patient expectations in a warm, welcoming environment.
In my career as a registered nurse, it is my personal goal to make a difference in the lives of my patients. In the urgent care setting, I have the opportunity to do this day in and day out, as we meet and greet the patients and provide quality care. I look forward to more opportunities to make a difference and an impact in this field of nursing.
Jessica Speer, RN, joined MedExpress in 2014. A graduate of County College of Morris and William Paterson University, Jessica enjoys photography and writing. When she's not caring for patients as a nurse or spending time with her family, you can find her working on her own blog, As The Speerit Moves You.