Text
March 11, 2019
Written by Dr. Adam Abdulally, Physician Traveler

I remember it like it was yesterday. My fellow soon-to-be residents and I waited patiently through the spring (or tried to) for Match Day to arrive. For those who may not be familiar, Match Day is a term used widely among medical students for the day when the National Resident Matching Program (NRMP) releases its "matches." This is the day med students find out where they will be completing their residency (or hands-on-training) to become a physician. It's such a significant day in a young physician's career because it sets the path of the next several years. I remember my wife and I being excited and ready to embrace what came next, but nervous and anxious about not knowing exactly where we were going. I'm originally from New Jersey but attended undergrad at the University of Pittsburgh with a degree in bioengineering, then went on to medical school at Drexel University College of Medicine in Philadelphia. It's safe to say that I thought of Pennsylvania cities as a second home and wouldn't have minded if that's where my residency was going to be.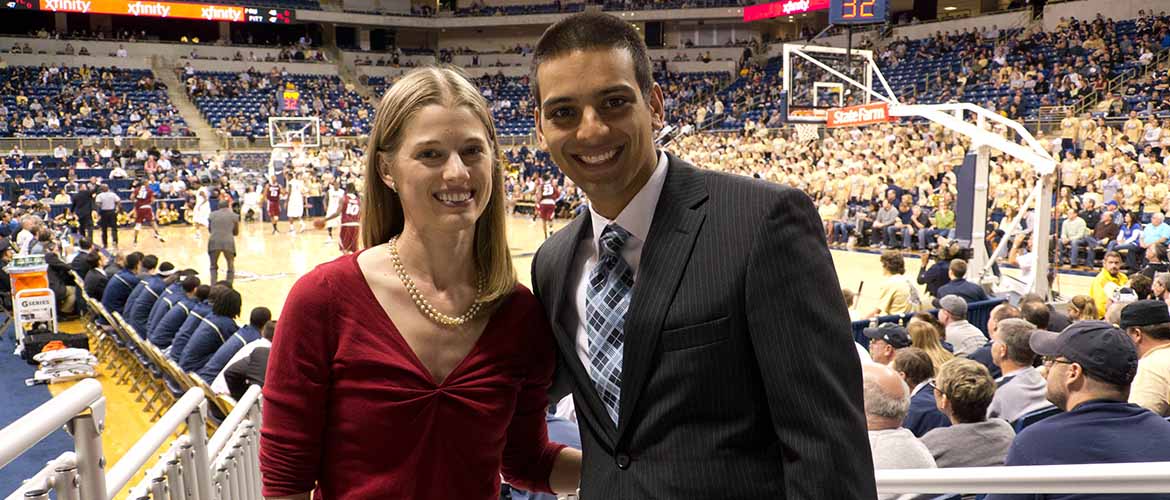 Dr. Adam Abdulally and his wife at a University of Pittsburgh basketball game
When I received the envelope that held such big news for my future, I didn't hesitate to tear it open and see what was inside. With much happiness, I was relieved to see a familiar name on the paper. I would complete my family medicine residency and sports medicine fellowship at UPMC in Pittsburgh. After the suspense was over, the celebrations commenced. My favorite memories from Match Day include spending time with my wife and classmates. We toasted to news beginnings, a memory that still holds a lot of meaning for me.

Afterward, our medical school threw a nice party to congratulate us. I'm so glad I had the opportunity to make a few more memories before saying farewell to my classmates and heading off to training. I even took the celebrating up a notch by taking a trip to San Diego and going on a cruise to Mexico. It was great to soak in some sun, enjoy fun times with my friends, and recharge before starting the next chapter.
My Advice for Residents on Match Day and What's Next
Whether you got your first choice or your last, you will have a great experience if you have the right mindset. Embrace the opportunity that was given to you as a chance to learn and grow your skillset as a physician. Punctuality is always noticed – so arrive early and work hard. Use your residency as a stepping stone to get to where you want to be. Residency is one of the most challenging times in your life, but it is also one of the most memorable.
Show up, be present, and be positive.
Say yes to opportunities that arise. Use this time to learn how to balance your personal and professional lives. Spend time with family and loved ones, keep up with your hobbies, and don't skip on self-care and exercise. It's easy to forget about the things that bring joy to your life – but don't. Take time to recharge your batteries. Schedule trips or take time to do what you love outside of residency. This will ultimately help you become a better resident − and in the end − a better physician.
How to Gain Skills for a Career in Urgent Care

Dr. Adam Abdulally on his Match Day with his colleagues
If you're interested in pursuing a career in urgent care, there is plenty of opportunity during your residency to pick up some key skills. In urgent care, you see a fair amount of viral and bacterial illnesses. However, you also see a lot of musculoskeletal (MSK) pain or complaints and minor procedures such as suturing and abscess draining. In your residency, it's great to volunteer to participate in these procedures to learn as much as you can. It also might be helpful to consider doing a sports medicine or orthopedic elective, as well as an emergency room elective, where you will traditionally see a lot of these procedures and injuries.
Why I love Working at MedExpress and in Urgent Care
The amount of teamwork and sense of family within MedExpress centers is unbelievable. I feel honored to work alongside a talented team of healthcare professionals to provide great care to patients when they need it. We also invest the time and effort to create a family environment through team activities and potlucks to help add some variety to our day and enjoy some delicious food (which I love). It is the small things that make a difference and having a great staff makes my job so enjoyable. MedExpress has given me the opportunity to get involved with projects outside of clinical work so I can build my skills and challenge myself. I've helped develop an electronic medical record (EMR) system for the centers and also provided physician's perspective for several committees.
There are plenty of specialties to choose from as a new resident starting out, my biggest piece of advice is to truly spend some time thinking about what you want your career to look like as a physician in the future. Once you decide what you want, it will help you better define what you want to specialize in and ultimately lead to a fulfilled, happy career as a physician.
Dr. Adam Abdulally is a physician at MedExpress who travels to work in centers across the country, but he is based out of Pittsburgh, PA. He's a proud University of Pittsburgh college basketball fan and loves spending time outdoors with his family – so much so that he has an advanced certification in scuba diving and has gone diving in Hawaii, Indonesia, Borneo, and Thailand.