Text
November 11, 2019
Written by Johnathan Hughes, Center Manager

As I am about to graduate from West Virginia University in May 2020 with a degree in Healthcare Administration, I can't help but look back at my journey and how it began by serving in the military – and I've realized just how much of an impact my experience in the military has truly helped to shape my career path to bring me to where I am today: a center manager at MedExpress. Serving in the military was one of the most rewarding and challenging times of my life, but it's also where I learned the true definition of discipline, integrity, compassion, and the importance of building relationships – all of which have assisted in becoming a strong leader with a passion for helping patients in our centers.

I joined the military after graduating from the West Virginia Junior College with a certification in information technology (IT).  I was unsure of what I wanted to do in the future and I thought joining the army would be a great option for me. I served as a Specialist in the army in the infantry field for four years where I was the driver on a Bradley Fighting vehicle, a vehicle that transports infantry or scouts with armored protection. After the army, I decided to continue serving our country in the U.S. National Guard for an additional two years. One of the most valuable lessons that I learned during my time was how to handle multiple competing priorities and solve problems while maintaining a calm demeanor. I also learned how to balance and lead a team of individuals with varying skillsets and build comradery.
When my time ended in the military, I decided to pursue a career using the skills and knowledge I had gained over the years, as well as my background in IT. I moved to Columbus, Ohio where I worked for a credit card company as an operations manager. I learned a lot during my time there and it was a great transition from military life into a corporate environment. In 2010, I moved back to my hometown of Morgantown, West Virginia and found a career opportunity with MedExpress.
Finding the Right Fit for My Career at MedExpress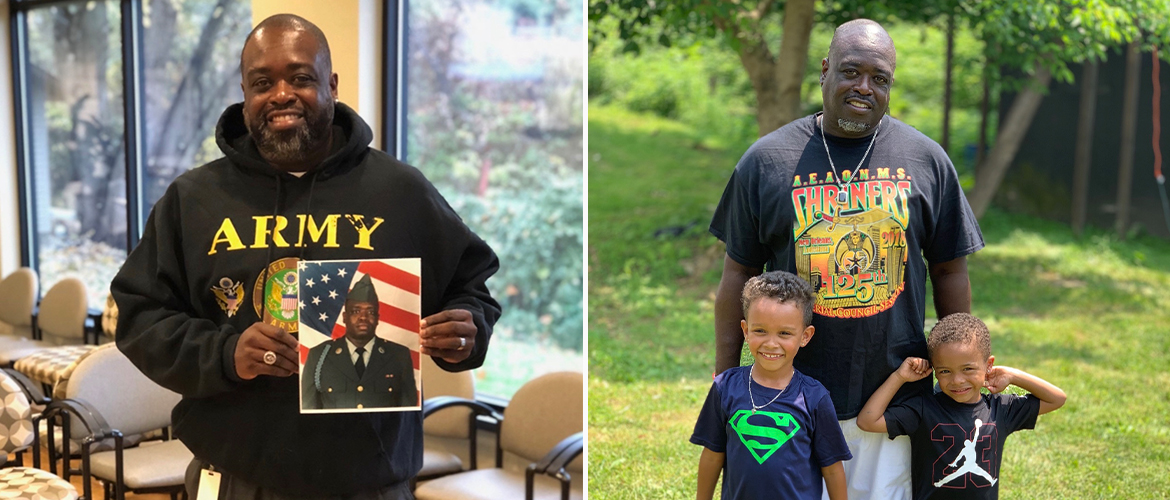 I had such strong roots in Morgantown, and it only made sense once I returned to explore career opportunities with West Virginia-based organizations. Prior to joining the MedExpress team, I had such memorable and positive experiences at MedExpress as a patient which really inspired me to explore employment with the company. I joined the MedExpress team in 2011. Since then, I have grown into a proud leader and center manager for one of our Morgantown centers. It's been a great place to build my career and continue to learn and grow professionally.

Many of our current employees have joined our team after visiting our center as a patient because they have been so pleased with their experience – similar to how I found my career path here. I feel privileged to be able to serve my fellow community members inside and outside our center walls. We are constantly in the community hosting events that exemplify our overall mission of helping people live healthier lives. The opportunities here are endless; I am surrounded by healthcare professionals and business-minded individuals who introduce me to new ideas and teach me ways to expand my professional portfolio. It's amazing to be able to learn and grow from the best in the business.
Feeling Proud to Serve those Who've Served

No matter what, there is one thing that always remains constant at MedExpress – the compassion and willingness to lend a helping hand and impact individuals through whatever means possible. I couldn't be more proud and honored to say that our organization is committed to giving back and supporting military veterans and their needs. Last year, the entire MedExpress team came together to support Operation Gratitude, an organization that delivers care packages to heroes oversees and at home. My team and I took time to personally write thoughtful thank you letters, packaged hygiene kits, and prepared battalion buddies, which are small teddy bears that were donated to children of troops who are overseas. Being able to do something like this in my daily work is the ultimate reward and truly valued by veterans. It's not every day you can enjoy your work and be able to meaningfully impact a population of people who so greatly deserve recognition and appreciation.

In addition to charitable outreach, I was thrilled to be able to share with my fellow Veterans that we also offer Veteran's disability exams across our centers nationally. As a VA authorized urgent care provider, we are now able to care for Veterans in an urgent care setting and get them much-needed care when and where they need it. It's humbling to know that that my own company and the work I do each day is truly closing a gap in care for those that previously served our country. MedExpress never fails to motivate me and prove that I made the right choice in my career. The values I learned in the military continue to be used in my day-to-day and it's been a blessing to work for an organization that shares in my values and serves veterans like myself.
Johnathan "Rocky" Hughes is military veteran and experienced Center Manager at our center in Morgantown, WV. When he's not leading his center team to success, he loves to spend time with his two energetic sons, Braxton and Kingston, golfing, fishing, and testing out his Top Chef skills by cooking new recipes.