Text
September 24, 2018
In 2002, I found myself looking for a change of pace that would really allow me to take my career to the next level in healthcare administration. Unsure of what my next steps should be, I knew at least one thing for certain, that I wanted to put my passion and skills for helping others to good use. I was looking for something that would allow me to make a difference in the world. As I was exploring career opportunities, I learned of MedExpress, an urgent care company which was expanding in the Florida area at the time, helping to deliver care for patients in a convenient and meaningful way. After doing some research, it seemed like the organization's values and vision aligned with my own personal beliefs. Luckily, they were looking to hire a center manager for their first center in eastern Florida in Royal Palm Beach. Excited about this possibility, I spruced up my resume and submitted my application. Shortly after, I was asked to come in for a series of interviews and the rest, as they say, is history. I didn't know it at the time, but I would be making a decision that would become an amazing, memorable career journey at MedExpress – for nearly a decade and a half (to date).
Becoming a Center Manager and What I've Learned from This Role

Joining the team as a MedExpress center manager allowed me to grow and develop my career with such a strong healthcare organization during the three years I was in the role. A huge part of my daily responsibilities was to work in partnership with the providers and center staff to lead the center to success. It was challenging work – you have to manage the overall operations for the center, the staff performance, schedules, and also look for opportunities to promote MedExpress in the community. But while it was challenging, I gained a well-rounded skillset that allowed me to strengthen my expertise in healthcare management. It served as a great foundation to start my career and growth in the organization.
After a few years as a center manager, I had the opportunity and privilege to serve in leadership roles for the company. I was promoted to the Director of Business Operations for the east Florida area, where I oversaw centers in the area for several years. My passion for working in operations continued over the following years as the Vice President of Operations for several regions in our platform where I was truly able to dig in and impact our center operations in a positive way. Most recently, I took on the responsibility of our employer health services and internal operations for the organization as a Senior Vice President of Operations. Without having been a center manager, I'm not sure I would be able to be as successful in my role today. There are many of things that I have learned that have become so valuable in how I do my work today as a Senior Vice President. It has really allowed me to understand how our teams in our centers operate day-to-day for our patients and what I can implement to help them provide the best care they possibly can. Throughout the many roles I've held, I've also experienced a lot of change and seen the organization evolve. It's really allowed me to learn how to thrive in change as a result. I now approach things at work with a growth mindset and challenge myself to always push further for success.
Why I Choose to Continue My Career Here

I can't begin to say it enough, but I absolutely love my team members – past and present! Over the many years, I've been fortunate enough to work with some of the most talented, bright individuals in the healthcare industry who have truly inspired me in my daily work. We have such a strong team environment here that we become like a family, sharing life's big moments and success with one another. It has been an honor to be able to transform personally and professionally from the people that I've met and worked with. It's also motivated me to show up for my team when they need me and really be there for when they need help, advice, or anything else in their careers.
Some of my most cherished MedExpress memories are of those with my team. One of my favorite memories is when I gathered our team together for a retreat. It was a good opportunity to bring everyone to one place, spend quality time together since some of us were spread across areas, and strengthen relationships. It was a perfect combination because we got to bond, tackle some work objectives, and participate in amazing team-building exercises.
Aside from my awesome team, perhaps the most important and biggest reason I love what I do is because I am able to see the difference we make in patients' lives. Being able to put someone at ease who is leaning on us to feel better is so rewarding and even though I am not the one providing that care, it's still great knowing that I get to contribute a small piece to those interactions and the care we deliver. As a mom of two myself, it's amazing to work for an organization who truly values family and treats each patient as if they are a part of our own.
My Advice for Those Starting Their Journey at MedExpress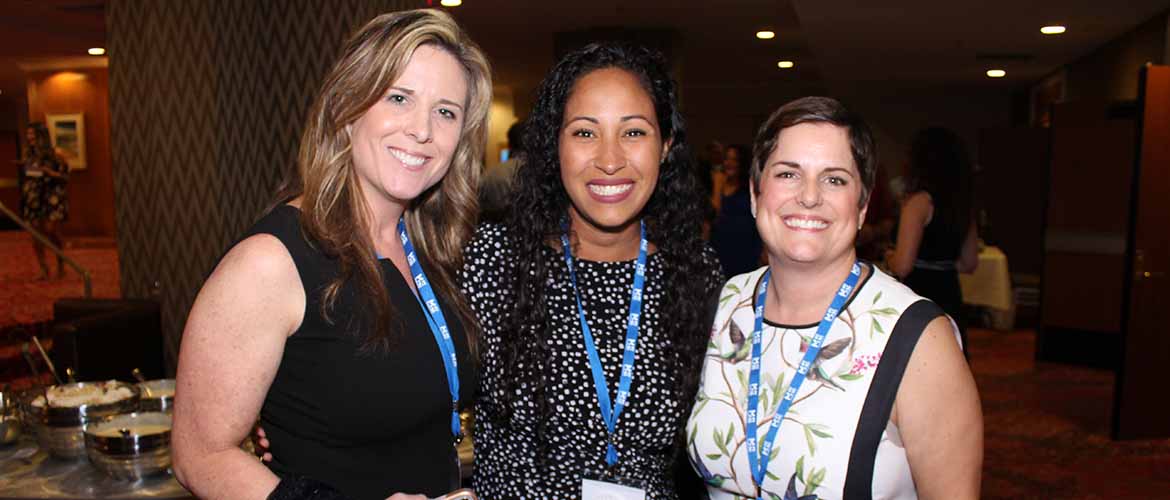 From left to right: Dr. Amy Meister, Arlene Neal, and Kathy Kaluhiokalani at MedExpress' Operational Excellence Conference
I often get asked if I have any insider tips or a recipe for success for those who are just starting out in their career at MedExpress. First and foremost, I always say to constantly be hungry to learn more. Take the time to learn any and all aspects of our centers and how we do things. Also, don't be afraid to ask questions. There are so many experienced and talented people waiting to help you be successful in your career here – take advantage of it. 
If you focus your energy and time on doing your best and learning all that you can, opportunity for growth will come.
And lastly, in my 15 years here, I've realized how important it is to approach each day with a positive attitude, focus, and to show up energized to give it all you've got. At MedExpress, we are constantly evolving to provide the best care possible for our patients. This means things can move or change pretty quickly, so it's important to always remain open to change and embrace it as a learning opportunity. This grants us the chance to make a difference.
Arlene Neal is a Senior Vice President of Employer Health Services and Internal Operations at MedExpress who has a passion for making a difference for our patients. She also enjoys spending time with her children, working out, and volunteering for local mission trips that serve Hispanic communities in her area.