Text
August 1, 2018
Meet Sniffle – An Adventurous Teddy Bear

Sniffle the bear loves helping the children in his community and assisting our team members during our Teddy Bear Clinic presentations. During these classes, Sniffle helps demonstrate what a typical visit to MedExpress looks like so that kids can see there is nothing to be afraid of when they visit a doctor's office. With Sniffle's help, it's easy to learn that stethoscopes, thermometers, otoscopes, and other medical tools aren't scary at all, even though they might tickle your ear or feel cold on your skin. Since Sniffle enjoys going out in the community so much, he decided to take a summer road trip across America to visit as many different MedExpress centers as he could. He couldn't wait to meet more MedExpress team members and learn about each unique community!
Sniffle's Road Trip

Sniffle began his summer adventure in Chicago where he got to visit Wrigley Field and watch the Cubs beat the Marlins. He had a great time, especially since he got to meet their mascot Clark, who looks just like him. It was such a beautiful day for a baseball game, but Sniffle forgot to wear sunscreen! When his skin became red and warm to the touch, he knew he had to visit MedExpress. Since our centers offer convenient hours, Sniffle knew that a provider would be able to help him even after the baseball game ended. Sniffle knew that a provider would be able to help him even after the baseball game ended. Fortunately his sunburn was pretty mild, so all he needed was some topical cream to start feeling some relief.
Once his sunburn was healed, Sniffle made his way to Northern New Jersey. He was excited to hike through the Morris Canal Trail. People can walk the trail and see the old path of the Morris Canal, which was used to transport boats all the way back in 1831.1 He made sure to start drinking water at least an hour before hitting the trail to stay hydrated during his walk. What he didn't plan for was all the pollen in the air. Sniffle is allergic to pollen, so his nose started to run and his eyes began to itch and water. Luckily there was a MedExpress just a few minutes away in Hackettstown, so our caring team was able to prescribe Sniffle some allergy medicine. He started feeling better in no time, and was able to continue having fun in the sun!
After his hike, Sniffle traveled to Good Lake at Wheeling Park in Wheeling, West Virginia. He took a lovely pedal boat ride on the lake and enjoyed a picnic afterward. Unfortunately, he had some uninvited guests show up to the picnic. Poor Sniffle got stung by a bee, so his arm started swelling and itching. He didn't have any difficulty breathing, so instead of going to the hospital he went straight to MedExpress. The providers at our Wheeling neighborhood medical center gave Sniffle an ice pack to help the swelling in his arm go down and hydrocortisone cream to help reduce the effects of the reaction. With the help of the MedExpress team, Sniffle was on the road again traveling to his next destination.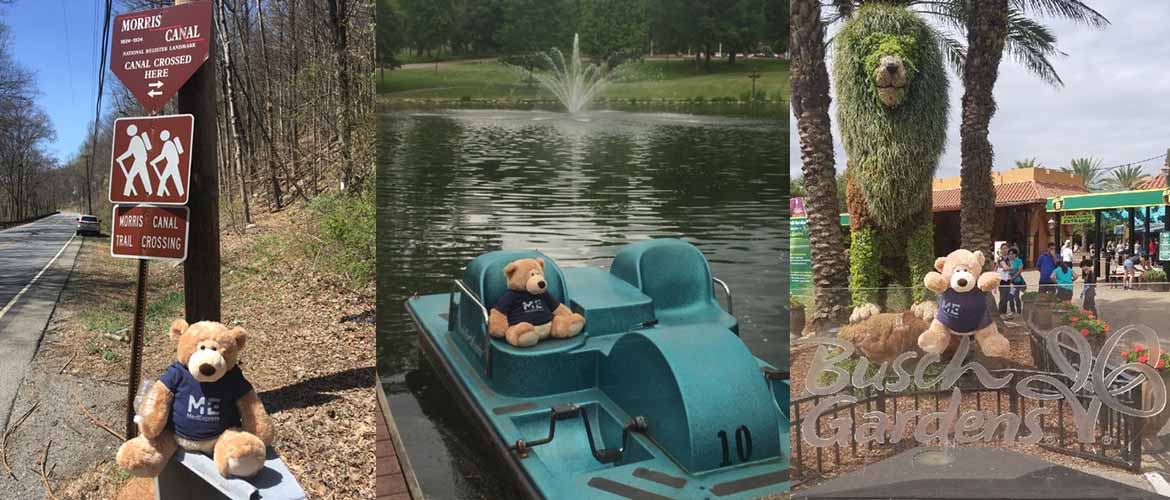 From West Virginia, Sniffle headed south to balmy and bright Tampa, FL. Since he learned his lesson about sunscreen, Sniffle was prepared and excited to spend some time in the Florida sun. He visited Busch Gardens where he got to ride roller coasters and see hundreds of different animals – Busch Gardens is home to Tampa's largest zoo with over 300 different species of animals.2 Even though he used plenty of sunscreen, Sniffle began to get muscle cramps and felt very tired. He started feeling faint, so he decided to head to the nearest MedExpress center. He found out he had heat exhaustion and needed to rest in a cool location out of the sun where he could rehydrate. He didn't need any medicine, but the friendly MedExpress team let him stay in a treatment room to make sure he was feeling better before leaving.
Once Sniffle was feeling healthy again, he headed to Mountain Home, AR for a special summer party at the Veteran's Plaza. He learned so much about the United States, and he celebrated the men and women in our armed forces who fought for our country. While he was looking at the monument, he fell and hurt his ankle. His leg swelled up and it was a little painful to put weight on it – back to MedExpress! The Mountain Home team took great care of him and let him know he had just a minor strain. They wrapped his ankle with a bandage and gave him an ice pack to help the swelling. He needed to rest it for a few days before continuing his summer adventure.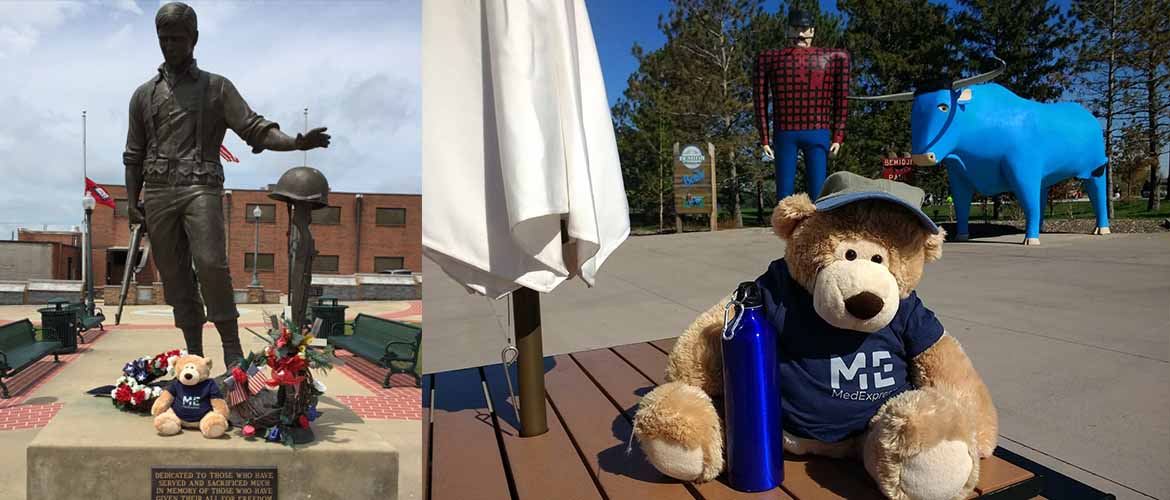 Sniffle's very last stop on his road trip was Bemidji, MN. He couldn't wait to go see the historic Paul Bunyan and Babe the Blue Ox statues located on the shore of Lake Bemidji. Paul and Babe are a popular roadside attraction who stand at 18 and 10 feet tall.3 He was careful to protect himself from the sun by wearing his hat and keeping hydrated, but because Sniffle ventured off the trails into the grass, he later found a tick on the back of his knee! It didn't look like Sniffle had a rash, but he still wanted to make sure that the tick didn't make him sick. He made a quick visit to MedExpress to get the tick removed and a blood test. He was a little nervous, but the neighborhood medical team at the Bemidji center made him feel a lot more comfortable. He got the good news a few days later that the tick didn't have Lyme disease that would make him sick – phew!
Sniffle had such a wonderful summer vacation visiting so many different cities and meeting other members of the MedExpress family. Even though he had some bumps and bruises along the way, MedExpress helped him stay healthy during his trip so that he could keep enjoying the summer! Sniffle would love to get back on the road and visit you next! If you'd like to schedule a Teddy Bear Clinic or another one of our free educational outreach programs, please visit our Community Connections page.
---
References:
1 Northwest NJ Skylands: Walking The Morris Canal. Last updated January 2018. Accessed July 05, 2018.
2 Busch Gardens: The World Is Home to Some Amazing Animals. Last updated in 2018. Accessed July 05, 2018.
3 Explore Minnesota: Discover Paul Bunyan, The-Larger-Than-Life-Lumberjack, in Minnesota. Accessed May 31, 2022.