Text
October 8, 2018
Written by Danin Cather, Community Involvement and Growth Manager, MedExpress
For the last four years since I've worked at MedExpress, I've had the pleasure of partnering with Girls on the Run (GOTR) of North Central West Virginia as their title sponsor and choice urgent care provider. Each year, I learn more about the people involved and the amazing program that they offer for girls across the country. As time passed, I've wanted to become more and more involved and am so honored to have had the opportunity to recently become a GOTR coach.
What is Girls on the Run?
Girls on the Run® (GOTR) is a 501(c)3 non-profit organization that teaches life and fitness skills to girls in third through fifth grade. The goal is to help girls harness their inner "star power" and learn about teamwork and how special each and every person is to our community. Teams meet twice a week for about three months. Then, at the conclusion of the season, a 5K running event is held to celebrate the girls achieving their goal of completing the race together. The GOTR program is all about teaching girls that they can, rather than they can't, and inspiring them to pursue their dreams.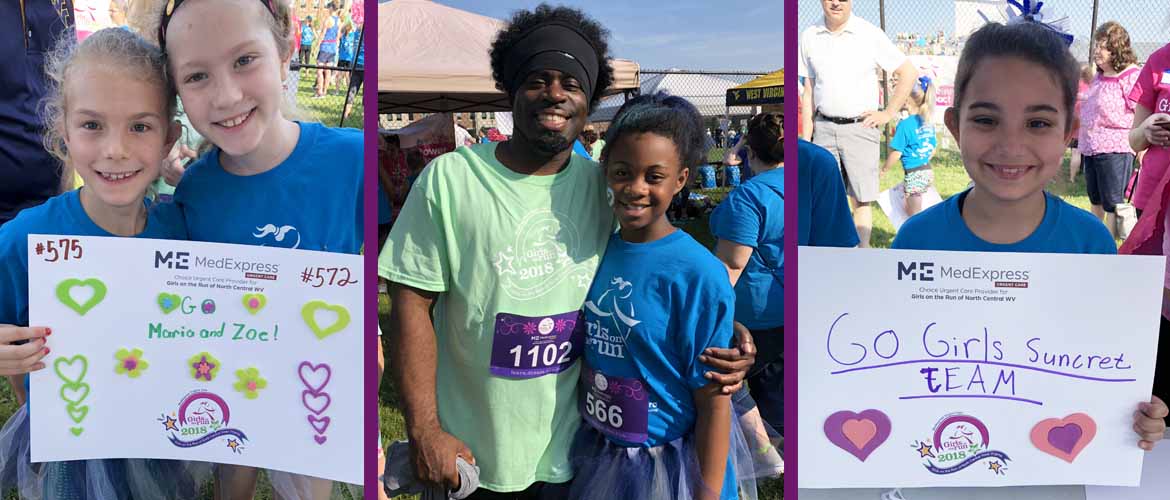 How MedExpress Partners with GOTR
As a company, MedExpress is a proud supporter of GOTR teams from Pittsburgh to Jacksonville, to Chicago and Minneapolis, and everywhere in between. Together, MedExpress and GOTR have helped nearly 40,000 girls on their journey to be confident, healthy, and active. While establishing new relationships with different councils across the platform, my fascination with this organization grew and I knew it was time for me to get involved with my local council on my own.
How I Became a Local Coach
Personally, I'm one of three girls – specifically, the middle child. I had a big sister to look up to and to idolize, and a little sister that I needed to set an example for and look out for when other girls weren't as nice. Growing up in a house full of girls was a challenge, especially for my dad, but through it all, my sisters are my best friends and as tough as girls can be, we run the world, right?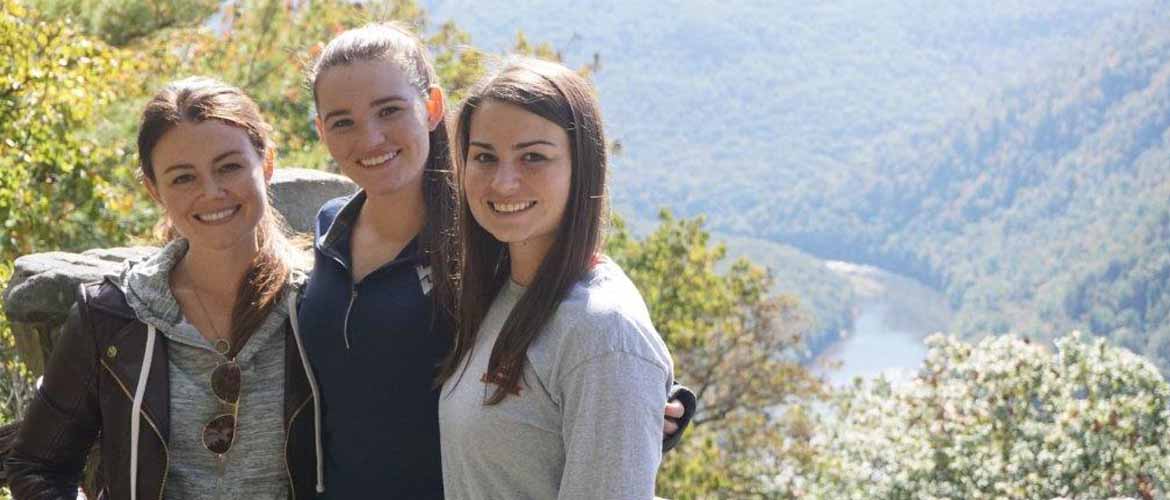 Danin Cather (right) with her sisters
As women, it's our job to stick together and encourage each other to be strong, independent, and happy. That's what GOTR tries to teach these girls. I must have been missing my sisters because this past season, I saw that my local GOTR council was accepting applications for coaches and I immediately signed up. It was a gut decision and after submitting my application, I was definitely nervous, but it's a decision I do not regret.
Before my first official practice, I was so anxious. What was I thinking? I didn't know any of the coaches or the girls, and my little sister is an adult now. I was out of practice! How was I going to figure out how to connect with girls in third, fourth, and fifth grade?
About 10 minutes into the first practice, all those nerves went away. It's like my big-sister and coach-like instincts kicked in. Before I knew it, I was helping the girls get organized, hearing about what they learned in school that day, tying shoes, and putting hair up like it was meant to be. Maybe it's just the nature of being an employee at MedExpress – my natural state is to be genuine, caring, and friendly and to go out of my way to help others.
As practices continued, the girls in my community became a team and looked forward to our time together each week. At the beginning of each practice, girls first learned a lesson about how to connect with others, to be compassionate, to know that you have a choice, to put others first, to be confident, to not let anyone dull your sparkle, and, best of all, to always have fun – and let's be honest, we could all use a refresher on these little life lessons, even as adults. After each lesson, we ran to help prepare us for the end of season 5K. Afterwards, we headed back to our classroom and rewarded a girl or two with an "energy award" and let them shine for doing something great that day.
My favorite part of practice, though, was that throughout our activities, someone would randomly yell, "Girls on the Run is…" and everyone followed with "…so much fun!" Hearing the girls scream those words, and screaming them myself, gave us pride in what we were supporting and representing – strong, independent, happy girls.
One day, a girl raised her hand when we were taking nominations and asked if coaches could be nominated. She nominated me – and I had to do my best to hold back tears because once she did, the other girls all pitched in and agreed. They said that Coach Danin was always there to encourage them at practice and run with them when they needed a friend. I got to stand in the middle of 20 girls while they all cheered to thank me. It was a very special moment for me and my favorite part of being a coach – it's such an honor to be a positive figure in girls' lives and know that they feel supported.
Family Matters
At MedExpress, we treat your family like we treat our own. Over the course of three months, I definitely developed a new family at GOTR of North Central West Virginia. I was surrounded by smart, motivating, and empowered women and learned so much from the other coaches. But, my learning didn't stop there. Those girls taught me something new every day. Not just what they learned at school or a new popular dance move, but to set a goal and work hard to get there.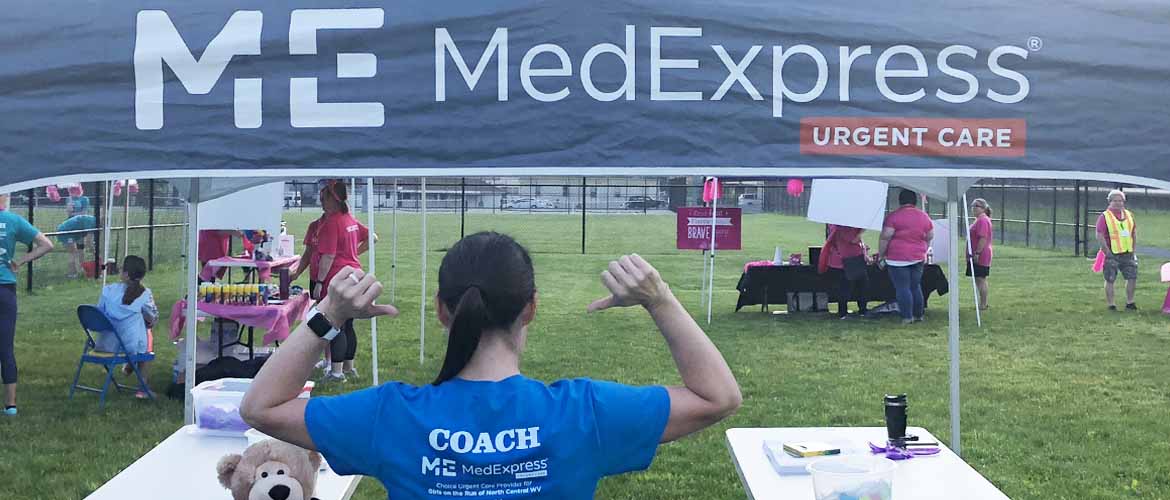 At the beginning of each practice, girls set a goal for how many laps they'll run that day and the idea is that each practice they get closer and closer to how many laps will total a 5K. When the day of our practice 5K came, these girls were determined to finish. When we had one girl left to finish with another lap, the entire team got behind her and finished with her. Third through fifth grade girls came together and cheered on their teammate until she, too, reached that goal. It made me realize that I need to surround myself with people in my life that encourage me and help push me to reach my goals – and that's exactly what I have at MedExpress. Whether it's at our administrative offices or our urgent care centers across the country, we are surrounded by incredible people that share a common goal to exceed your expectations and provide you with the care that you need.
All in all, GOTR offers an incredible opportunity for young girls – and MedExpress is proud to support a like-minded organization with a strong commitment to our community. When the day of the 5K came, I was so excited to be a part of it with my team, but sad that our season was ending. We ran together through the summer heat, encouraged each other to make it up those hills, and accomplished our goal of finishing that race. I can't thank my team enough for the lessons learned and the unforgettable experience. I am so excited for next season and the adventures yet to come in my new role as coach because Girls on the Run really is so much fun.
Danin Cather is a Community Involvement and Growth Manager at MedExpress who loves working with local organizations in our MedExpress communities. She also enjoys spending time cheering on the Mountaineers with her husband, taking her dog for nature walks, visiting Disney World as often as she can, and playing board games on rainy days.