Text
January 7, 2019
Our MedExpress team members have big hearts, and they wanted a way to put their compassion, energy, and expertise to good use in the community. We introduced a Volunteer Time Off (VTO) Program as an added benefit for eligible team members. Why? Because we know being a neighborhood medical center means more than just providing great care – it means truly being a great neighbor to those who live and work around us.
Ain't No Stopping Us Now: 812 Hours and Counting
Eligible employees were granted eight hours of VTO to spend away from their daily work and give back to an organization or cause of their choice. The benefits are two-fold: team members rolled up their sleeves and completed meaningful, purposeful work for many worthwhile organizations and felt good while doing it, ultimately enriching the lives of the team members who were able to take part.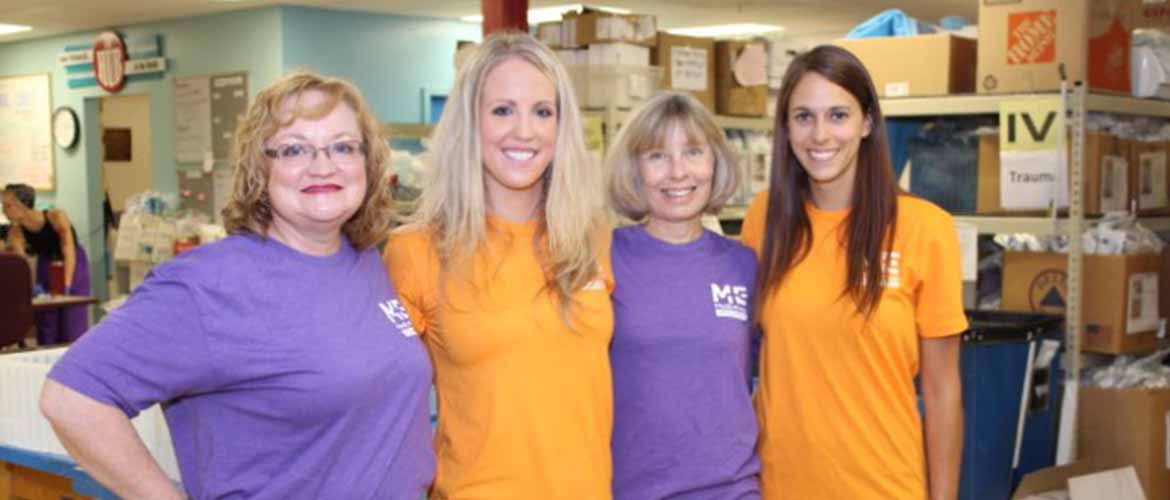 And the proof is in the numbers. In just six months, 812 hours of VTO (if you do the math, that's 101 work days!) have been used by MedExpress team members. This exciting new benefit showed everyone was eager and ready to make an impact as soon as they could. Some used the VTO Program as a great team-building exercise and organized their own department activity, some volunteered on their own, and others participated in our first-ever "MedExpress Volunteer Day."
Teamwork Makes the Dream Work: MedExpress Volunteer Day
On September 21, 2018, individuals from our administrative offices in Canonsburg, Pennsylvania and Morgantown, West Virginia took to their communities as part of an organized, collective day of service. Team members visited a variety of volunteer sites around western Pennsylvania and Morgantown, West Virginia. In total, over 50 employees volunteered at seven local organizations in the area – from animal rescue to preserving history, they gave back and supported these causes throughout the day.
Sharing Some Love with Our Furry Friends: Nose 2 Tail Cat Rescue

What better way to spend the day than by helping animal rescue organizations and cuddling with some cute furry friends? Many of our team members share a passion for animal care and rescue, and can you blame them? We made sure to include a few animal rescue organizations on the roster for our day of volunteering.

One of these organizations was Nose 2 Tail Cat Rescue, a rescue group dedicated to caring for cats and kittens and facilitating their adoption. Throughout the day, everyone helped to organize and clean up the facilities, including the not-so glamorous but much appreciated job of scrubbing litter boxes and cages. When they needed a break from all of the cleaning, some adorable feline friends received some much needed love and attention. In addition to cuddling and playing with toys, team members also held story time and read books to some of the cats.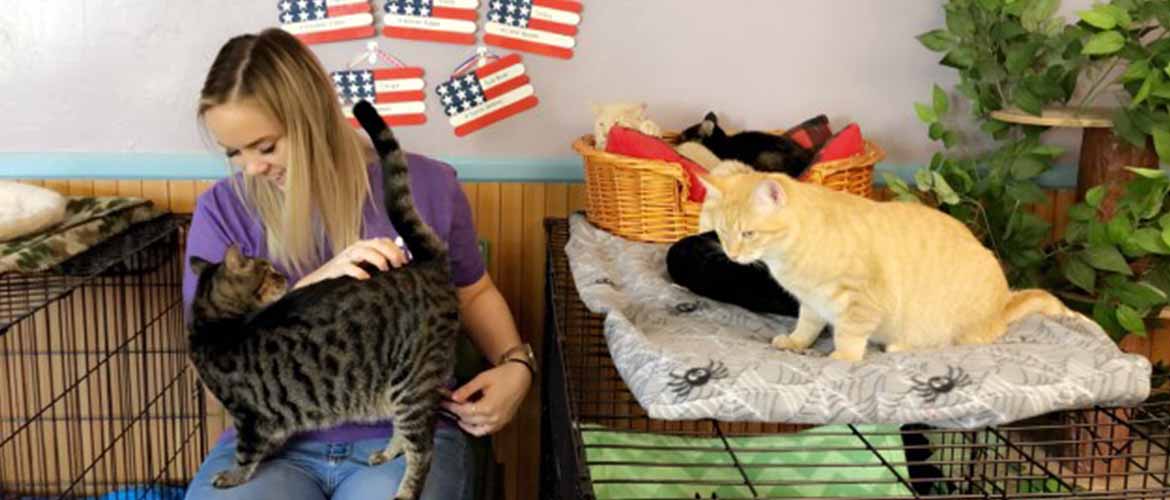 Fun Fact:  Reading to animals at shelters helps them to become socialized and easier to adopt. This technique can also help animals become more at ease with unfamiliar human voices.
"It was awesome to be able to use my VTO and help out the cats at Nose 2 Tail Cat Rescue," said Merissa Cooper, Staffing Coordinator. "It was a fun and rewarding experience being able to spend time with the cats, bond with my coworkers, and help clean up their temporary home to make it a happier place for them to stay."
Homeward Bound: Pittsburgh Aviation Animal Rescue
Several team members spent time at the Pittsburgh Aviation Animal Rescue Team (PAART). This rescue group saves animals in danger from natural disasters or from shelter overcrowding by transporting them to a safer location via airplane. The animals are brought to a home base in Pittsburgh where local no-kill shelters with space available help out to find these furry friends a forever home. Each year PAART helps thousands of animals make this journey and brings them to safety so they can seek adoption.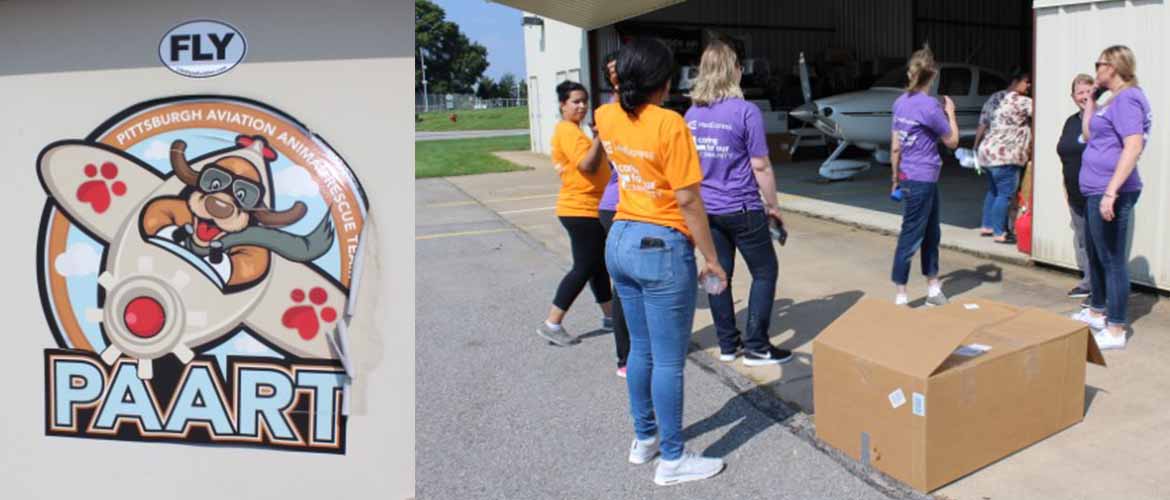 MedExpress volunteers hung out at the hangar for the day, helping to tidy up the area where the plane is stored, getting cages cleaned and ready for incoming animals, and learning more about the overall mission of the organization. Although no animals were brought in while volunteering, our team's efforts were needed more than ever as PAART was about to receive incoming animals from Hurricane Florence that had impacted the Carolinas a few days prior.

"I'm very proud to say that I work for an organization that focuses on giving back to the community," said Brittani Evans-Conner, Center Staff Recruiter. "The Pittsburgh Aviation Animal Rescue Team relies on volunteers to rescue animals nationwide. The organizers were so appreciative that MedExpress banded together with such a large group of volunteers for a day of service, and it was awesome to be there!"  
Preserving a Piece of History: Museum of Western Expansion
For the MedExpress history buffs, they traveled back in time to help out at the Museum of Western Expansion, a local museum maintained by the Peters Creek Historical Society. This local organization aims to preserve local history in western Pennsylvania communities for future generations to enjoy. The museum is always looking for individuals to help clean and preserve the artifacts in their space, so our teams rolled up their sleeves and pulled out their dusters to help make the space nice and neat for visitors. They painted and scrubbed walls, vacuumed the floors, raked leaves outside, and even dusted and polished some historical artifacts – very carefully! This was a unique way to volunteer and a chance to learn and preserve a piece of local history.
"I loved learning from the caretakers and members of the Peter's Creek Historical Society," said Cynthia Vranish, Training Coordinator. "The house was built in the 1760's and each room tells the story of how people worked in lived during that time.  They refer to homes of that time as like 'living in a box'. Homes were for shelter and the early residents only kept things that could be easily carried so if they had to leave quickly they would be ready. It was interesting to see how settlers lived without or with very few comfort items."
Taking Medical Supplies Global: Global Links
Based out of Pittsburgh, Global Links works to repurpose useful materials to support public health programs in underserved countries. One of the ways they do this is by reducing medical materials waste. On average, Global Links recovers 300 tons of medical materials each year, which can be reused in the areas they serve. Thanks to volunteers, including MedExpress team members, they are able to regularly clean and package these unused medical materials and supplies into shipping boxes to be sent where it's needed most.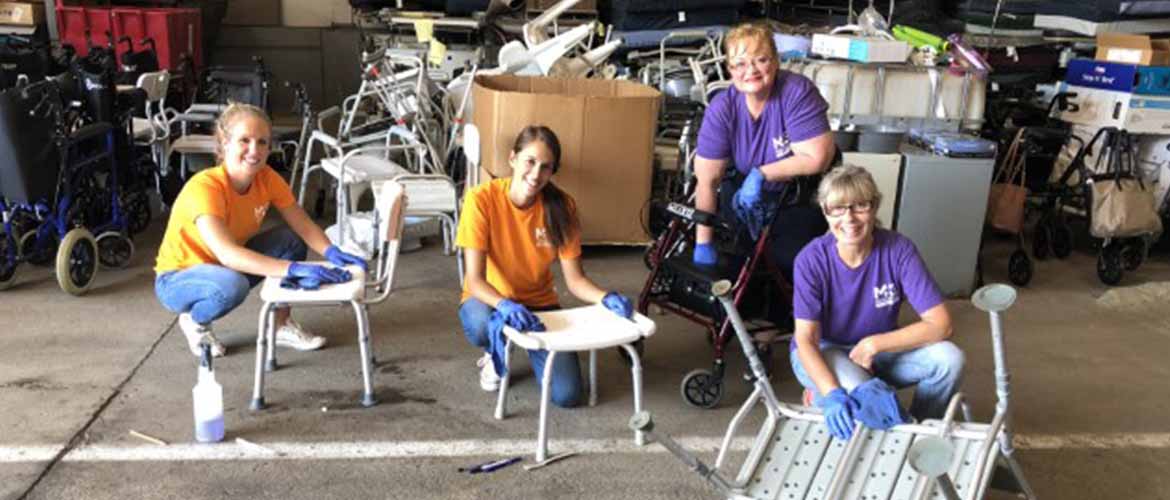 To begin the day, our team was given a tour of the facility to get to know the ins-and-outs of the organization. During the tour, volunteers were able to see the equipment used, understand Global Links' mission, and learn about the furnishings and supplies they distribute throughout the western hemisphere. Team members then spent the rest of the day organizing and packing up supplies that were going to be shipped out the following month.
"We had the chance to see pictures from Nicaragua, where family medicine clinics have now been established using these materials," said Sondra Moss, Senior Director of Medical Operations. "Care is now being provided to people who travel hours to receive it. It was great to see this organization's hard work in action."

Lending a Hand: Washington City Mission
Next stop was the Washington City Mission in Washington, Pennsylvania. For over 75 years, the City Mission has helped homeless men, women, and children in the surrounding area to gain access to basic necessities such as meals, shelter, medical care, and programming. Their goal is to help anyone who walks through their doors to become a healthy, productive member of society.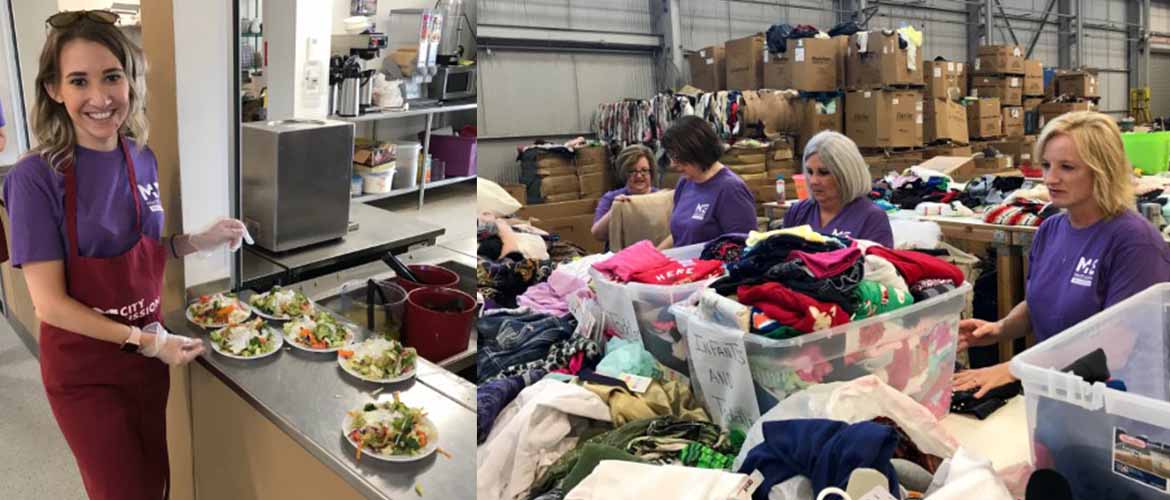 Our team had a busy day that started in the donation warehouse. City Mission receives tons of gently used clothing and items. Our team members helped to label, sort, and organize hundreds of items. By taking the time to organize everything, City Mission can efficiently and properly distribute the donations to those in need.
To close out the day, our team put on their chef hats and took to the kitchen to prepare and serve a hot lunch to those that live nearby.

"I have the privilege of working with kind, thoughtful, and dedicated co-workers, said Shayne Harris, Compliance Team Lead. "Good health relies on so much more than medical care; it also means proper nutrition, clean clothes, and safe housing. I'm honored to work for a healthcare company that is committed to caring for the health of the whole individual."
Home Away From Home: Ronald McDonald House
Last but not least, some members of our team paid a visit to the Ronald McDonald House of Morgantown, which serves as a "home-away-from-home" for families with children who are being treated for a serious illness or injury at a nearby hospital. During this visit, team members provided a warm, delicious meal filled with fresh fruit and waffles.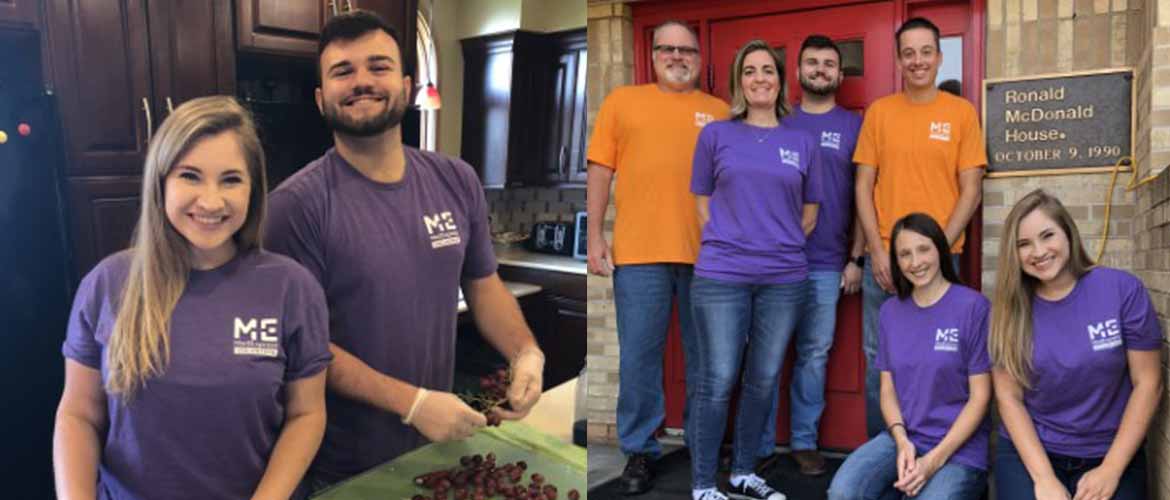 "Often times a warm meal is appreciated by the parents staying there," said Jacob Abel, Marketing Communications Coordinator. It becomes one less thing to worry about while parents are focused on taking care of their child in the hospital. Our team enjoys cooking meals throughout the year at the house, and we look forward to many more meals to come."
The MedExpress VTO Program is a great way to give back and fulfill our organization's purpose of being able to make a difference in the communities we serve each day. We look forward to giving back and helping more organizations in the future, so follow us on social media to stay updated with how other members of our team are taking advantage of their VTO hours to make an impact.