Text
June 10, 2019
Written by Milena Novotny, Community Involvement and Growth Coordinator, MedExpress
"We put our heart and soul into everything that we do." I remember those words perfectly, first hearing them from my soon-to-be supervisor when I was interviewed for a position at MedExpress Urgent Care. I came looking for a role that would let me express my creativity while also flexing my passion for giving back. At the time, I was unaware that those words would come to represent my time at MedExpress – and would become a phrase that I would live by.
As Community Involvement and Growth Coordinator, I have the exciting task of planning community outreach activities for 69 of our centers across seven states. Every day, I am in awe of the way that MedExpress goes above and beyond to be not only a quality, trusted healthcare provider, but a place where patients feel at home. Our work starts even before patients are sick or injured, greeting them with a friendly face at a community event, talking to their children about visiting the doctor at a Teddy Bear Clinic, and even surprising them with a free cup of coffee at their local coffee shop. To me, there is no greater evidence of MedExpress' community support than hosting our own events and showcasing our Genuine. Caring. Friendly.® values. On May 11, 2019, we hosted our seventh annual MedExpress Weirton Kidz Day, inviting local children and families to participate in a day of fun.
What is Weirton Kidz Day?
MedExpress Weirton Kidz Day began in 2013 as a way to interact with local Weirton families and share our MedExpress values. Weirton is a tight-knit town in northern West Virginia where MedExpress has been serving the community as a neighborhood medical center since 2011. Traditionally held in the fall, this event brings together local businesses and organizations to host a family-friendly game or activity at a booth in Marland Heights Park, a historic park that's been a facet of the community since 1934. To take the event one step further, the vendor fees for these booths are donated back to the Marland Heights Park Board to support their mission of healthy lifestyles and communities. Activities at Weirton Kidz Day are accompanied by food, music, crafts, and visits from local police and fire trucks. This was the first year that MedExpress Weirton Kidz Day was held in the spring. Attendees enjoyed a photo booth, archery, petting a dog and kitten from the Hancock County Animal Shelter, Mother's Day crafts, and booths from the Girl Scouts and the local library.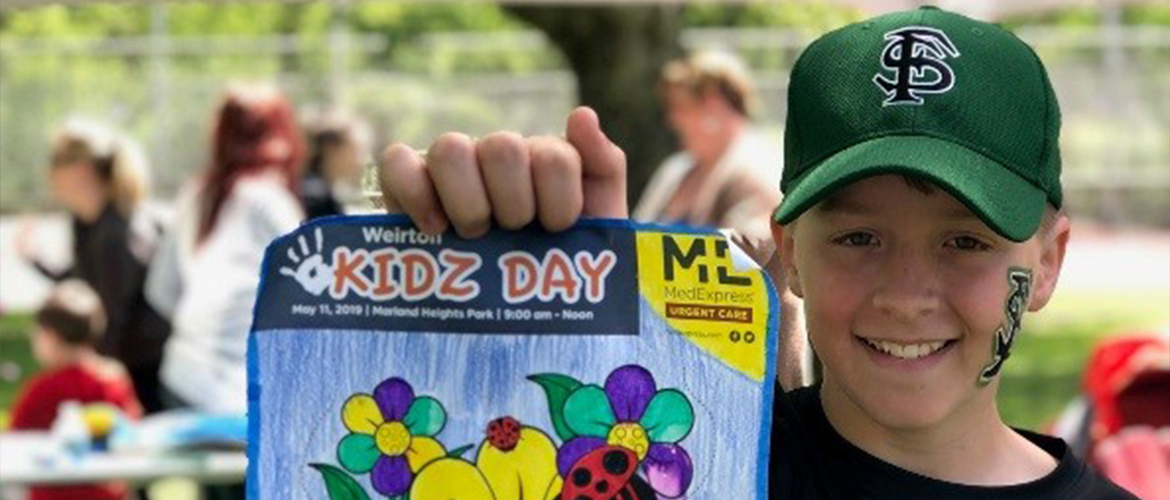 Giving Back to Weirton
Giving back and supporting the community is engrained in the DNA of MedExpress. At its start, Weirton Kidz Day was a way to bring together local organizations to celebrate their town and support local youth and families. Over its 7-year tenure, this event has evolved to include families who return year after year, excited to participate with their loved ones. The event now also includes a charitable aspect, asking attendees to donate items that will be given back to their community for those in need. Families look forward to the "Save the Date" coloring contest coloring sheets that are handed out in schools. Students are invited to bring the finished coloring sheet to Kidz Day for a chance to win a fun prize like tickets to an upcoming local event.
This year, the date for MedExpress Kidz Day was set for May 11, the conclusion for Teacher Appreciation Week. To help celebrate Teacher Appreciation Week, we chose two winners of our coloring contest for the first time. Each will be awarded $250 for their teacher and classroom - and the fun doesn't stop there! MedExpress donated breakfast to all teachers in the Weirton area in the week leading up to Kidz Day to thank them for all that they do.
Making It Happen
Planning a community event is no small task – it takes lots of preparation and a team of hardworking people. MedExpress Weirton Kidz Day would not be possible without the passion and dedication of our Weirton Center Manager, Jenny Anderson. I have the privilege of partnering with centers from across the country and when I think of someone who lives our MedExpress values, Jenny is the first to come to mind. Not only does she show unwavering support of her center and staff, but this event would not be possible without her. She leads the way in every step of planning, from contacting community partners, to assisting in the design of the coloring sheet, to working with local media to help bring coverage to the event. It is center managers like Jenny who bring the home feeling to our centers. Their hard work and passion are what makes MedExpress great. I am grateful for each day that I am able to partner with our staff, pour our heart and soul in to everything we do, and give back to the community.