Text
To make sure you can visit us with confidence, we're sharing our current protocols, testing procedures, and what you should do before you visit us.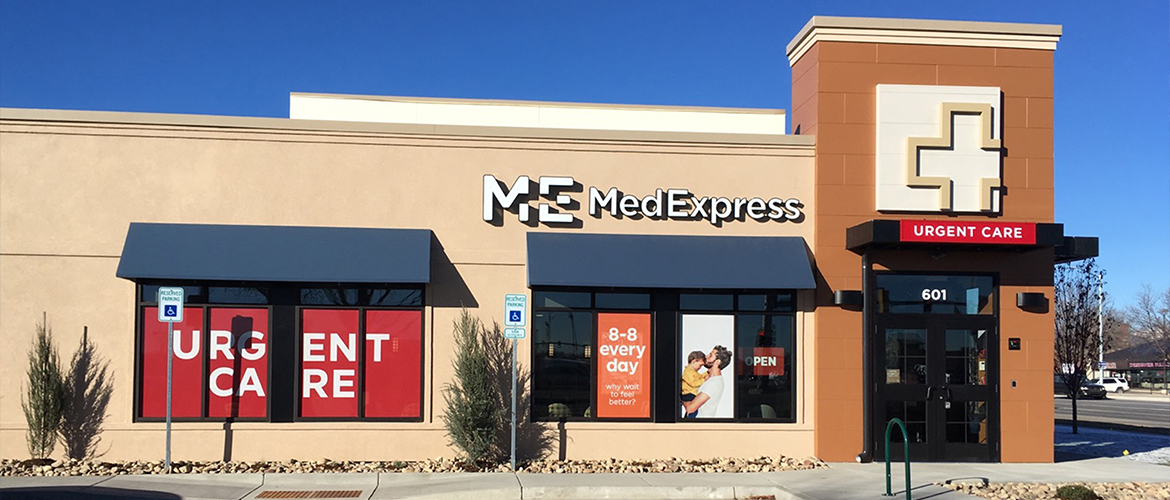 ---
COVID-19 Symptoms
What Are the Signs of COVID-19?
To determine whether you're exhibiting COVID-19 symptoms identified by the Centers for Disease Control and Prevention (CDC), please utilize our online symptom checker. This tool can help determine the best way for us to care for you, which may include scheduling a Virtual Visit or visiting one of our local centers.
---
COVID-19 Testing
Can I Be Tested at MedExpress for COVID-19?
Yes, COVID-19 testing is being offered at designated centers when determined medically appropriate (by a healthcare provider) for known or suspected exposure. Click here for a list of our testing locations, including some drive-up testing locations. Please note that tests are available on a limited basis. As this situation continues to evolve, please re-visit this website frequently for any updates.
What is the Difference Between a COVID-19 Rapid Test and Send-Out Lab Test?
A COVID-19 rapid test provides results while the patient waits.
COVID-19 lab tests are sent out to LabCorp, our nationwide partner. Patients will be called with results as soon as they are received.
What Type of Test Will I Receive?
MedExpress is currently offering both rapid and laboratory send-out COVID-19 tests for a known or suspected exposure to COVID-19.
The type of test administered is determined by our providers after a medical evaluation and is based upon:
CDC recommendations and considerations
The type and duration of symptoms
The patient has no symptoms but has had close contact with a person with a confirmed case of COVID-19
Those needing tests for pre-procedural, occupational or travel requirements
How Long Will It Take to Get Results from My COVID-19 Rapid Test?
COVID-19 rapid test results* will be communicated during the visit. If the results are negative, we may recommend sending out a COVID-19 lab test and asking the patient to quarantine until their results are available.
*COVID-19 rapid and/or send-away lab tests may be administered when determined medically appropriate (by a healthcare provider) for known or suspected exposure.
How Long Will It Take to Get Results from My COVID-19 Send-Out Lab Test?
Timing may vary depending on the volume of tests being performed by our commercial lab partner in your region. However, due to an increase in COVID-19 testing nationwide, our lab partners are currently experiencing longer-than-normal turnaround times for testing results. If you were tested at a MedExpress center and are awaiting your results, a member of our team will call you once we receive your results.
Do I Need a Doctor's Referral to Be Tested for COVID-19 at a MedExpress Center?
No, you do not need a referral from your doctor to be tested. Please note, however, that COVID-19 testing is only available at designated MedExpress COVID-19 testing locations for patients who are seen and evaluated at our centers. We do not currently accept referrals or prescriptions for testing from outside health care providers.
---
COVID-19 Testing: Insurance, Cost and Billing
Why Can't MedExpress Tell Me the Cost of a COVID-19 Test?
MedExpress only bills patients for the evaluation and treatment they receive from our medical providers during their visit. Unfortunately, we are not able to provide any information about how our commercial lab partner, LabCorp, will bill patients for COVID-19 testing, nor are we able to provide information about how specific insurance carriers will process claims related to COVID-19 testing and treatment. Many health insurance companies across the country have stated that they will cover the full cost of any testing for COVID-19. However, if you have questions or concerns about your specific insurance plan, it is a good idea to check with your insurance company to learn if it covers the test.
MedExpress accepts most major insurance plans. To check which insurance plans are accepted by state, please utilize our insurance lookup tool.
---
Protecting Health and Safety of Patients and Staff
What Is MedExpress Doing to Limit Exposure to COVID-19?
We know that this is a challenging time and that some of our communities may feel anxious or worried about visiting a health care facility. Your safety is our top priority. During this time of unprecedented need, we're taking steps to ensure that a visit to MedExpress is safer than ever before.
We've enhanced our cleaning practices and use medical-grade disinfectant approved by the Centers for Disease Control and Prevention (CDC).
We've made changes to our reception areas, including installing plexiglass dividers at our check-in windows and reconfiguring our space to promote social distancing.
We're assessing the health of our employees throughout the day, and we have processes in place to quickly identify patients with cold-like symptoms.
Our team members will always be masked, and will provide you with a mask, if needed.
We're doing all these things so that you can continue to access friendly, expert care when you need it most. And if you choose to remain at home, MedExpress Virtual Visits provide care with secure video chatting.
What Does MedExpress Do in the Event That a Patient Comes in with Possible COVID-19?
Our staff members are prepared to quickly follow all appropriate guidelines as recommended by the CDC, including providing a face mask to the patient, rooming them away from others and notifying the local health department.
---
Employer Health Services

How Will Employer Health Services at MedExpress Be Impacted by COVID-19?
For the health and safety of your employees and our team members, MedExpress has temporarily discontinued employer health services, including occupational medicine and workers' compensation, at all Florida and Texas centers offering COVID-19 testing and the following services at all locations: respiratory fit testing and pulmonary function testing. Additionally, MedExpress centers that are only offering COVID-19 testing are not conducting breath alcohol testing (BAT) at this time. We will continue to evaluate our employer health services and any additional changes will be posted to our website.
If you have questions regarding our services or location offerings, we recommend that you or your employees call our sales department at 833-317-9192 or email us at ehssales@medexpress.com before your employees visit a MedExpress. Our team members can direct you to the most appropriate center based on their individual needs.
Is MedExpress Performing Return-to-Work COVID-19 Testing for Employees?
Yes, MedExpress is performing return-to-work COVID-19 testing, also known as asymptomatic testing,** for employers' workforces. If interested in this offering, please reach out to our sales department at 833-317-9192 or submit this form.
Are MedExpress' Centers in Uniontown and Washington, Pennsylvania, Offering Audiometry Testing?
At this time, these centers are unable to offer audiometry testing. We apologize for the inconvenience, and advise you to reach out to our sales department at 833-317-9192 or ehssales@medexpress.com to arrange for an audiometry test at another one of our nearby neighborhood medical centers.
Information, recommendations, and guidance contained herein is fluid and is subject to change as new information, recommendations, and guidance is issued by the CDC and state and local health authorities.
** Disclaimer: Please be advised that negative results are based on whether or not the employee had active COVID-19 infection on the date the test was performed. Because the employee could have been exposed to COVID-19 after testing,  negative results do not guarantee that the employee does not presently have or will not develop active COVID-19 infection.  As such, continued monitoring for symptoms commonly associated with COVID-19 is necessary and is recommended by the Centers for Disease Control and Prevention (CDC) after a negative result, as is the continued practice of preventative measures aimed at preventing the spread of infection, such as, social distancing, hand hygiene, and the use of face masks as directed by state and local public health officials. Additionally, asymptomatic COVID-19 testing should not be construed as ongoing disease management and should not take the place of regular consultation with the employees primary care provider. If the employee develops symptoms commonly associated with COVID-19, they should consult their primary care provider immediately for guidance. If the employee is experiencing a medical emergency they should immediately go to the Emergency Department.