Text
July 6, 2020
Cooking without meat might seem challenging at first. How can plants compare to thick, juicy steak or teriyaki-glazed chicken? Though it might seem a little out of the ordinary, eating a plant-based diet has many benefits – including saving some money at the store!
We know that everyone's diet looks a little different, which is why we're sharing meals that will delight even the pickiest of eaters.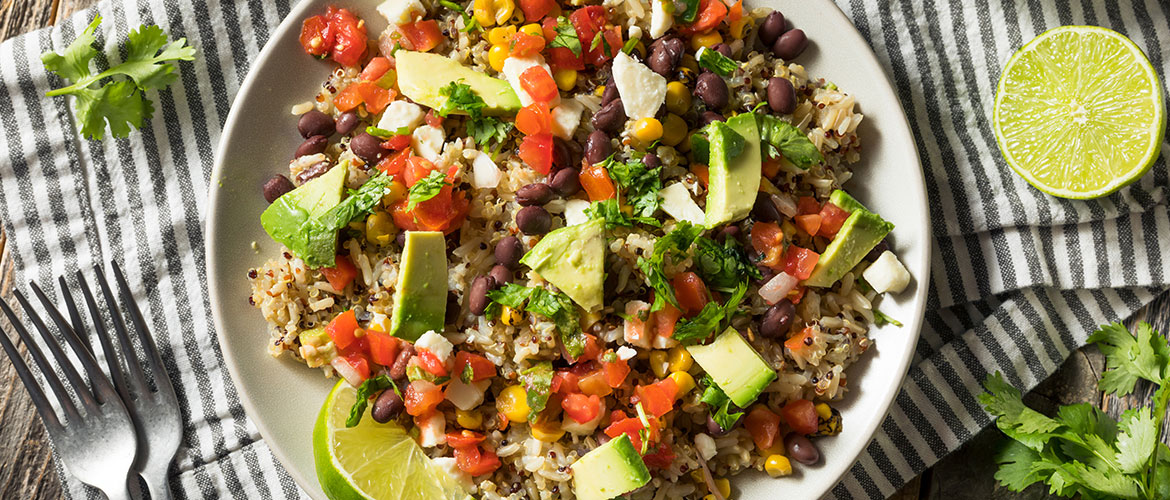 Recipe #1: Bean Burrito Bowls with Cilantro-Lime Rice
Burrito bowls are a tasty way to sneak in some low-fat protein and fiber while enjoying a popular dish! Black beans form the backbone of this healthy and robust meal that's perfect for foodies, meat-lovers and your guacamole-obsessed best friend.
Ingredients for 4 servings:
1 can black beans, mostly drained
2 cups brown rice
1 green pepper, sliced in strips
1/2 tsp. oil
1/4 cup fresh cilantro
4 tsp. lime juice
1 tbsp. cumin
1 tsp. onion powder
1/4 tsp. minced garlic
1/2 tsp. sea salt
For serving:
1 container of salsa
1 container of guacamole
1 bag of shredded Mexican cheese
Directions:
Boil 3 cups of water in large pot over high heat. Add 1 cup of brown rice once water boils and let sit for several minutes, until rice is cooked, but still firm. Drain remaining water, then rinse rice in additional hot water and drain again. Stir in cilantro, lime juice and salt, then set aside.
While rice is cooking, heat 1/2 teaspoon of oil in a medium skillet over medium heat. Once oil is hot, drain most of the liquid from the can of black beans, then add beans and sliced green pepper to skillet. Allow to simmer for several minutes, stirring occasionally. Once mixture has thickened, add cumin, onion powder, garlic and salt and stir. Allow to cook for another minute, then remove from heat.
Assemble burrito bowls, adding rice, beans, salsa, guacamole and cheese.
MedExpress Pro Tip: Caitlin Salomon, long-time vegetarian and MedExpress employee, recommends swapping brown rice for quinoa if you want some extra protein in your bowl or need a gluten-free swap. "Another easy substitution is to skip the cheese to make this a tasty vegan option," she adds. "You can also substitute pinto beans or chickpeas for the black beans."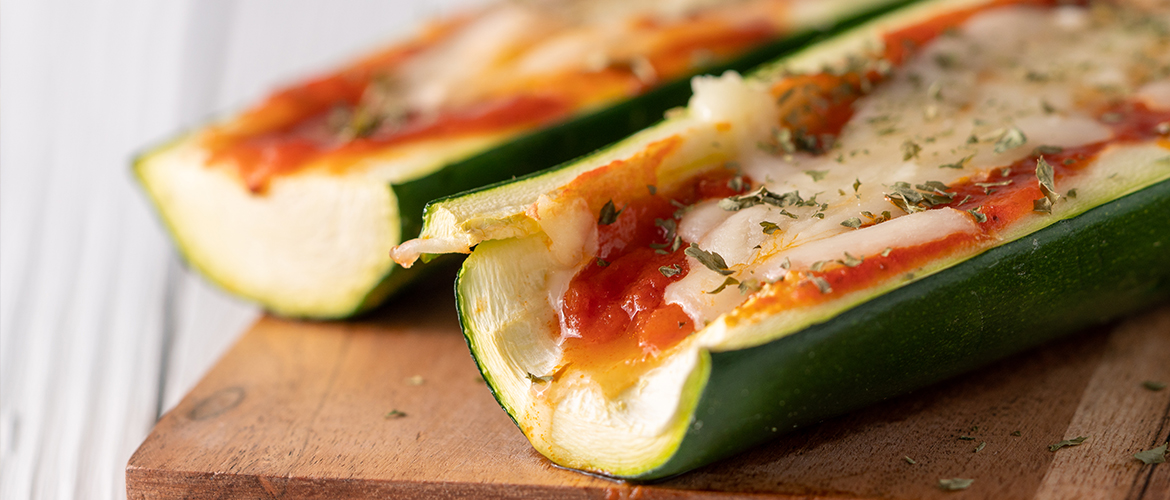 Recipe #2: Zucchini Boats
Nothing says summer like zucchini! This easy meal is low-carb and low-fat, making it perfect for a quick, healthy dinner. It's also a win if you need to figure out what to do with all of the zucchini from your garden.
Ingredients for 4 servings:
4 medium zucchini, about 6 inches in length
1/2 cup of breadcrumbs
2 tsp. of oil
1 cup of pasta sauce (1/4 cup for each boat)
1 1/2 cup of shredded Italian cheese (1/4 cup for each boat)
4 tsp. of Italian seasoning (1 tsp. per boat)
Directions:
Preheat oven to 350 degrees. Wash zucchini thoroughly. Cut off top and bottom, about 1/2 inch from either end. Slice long ways.
Using a spoon, scoop out middle section of zucchini, leaving a hollowed "boat." Place the scooped out portion in a separate bowl, chopping up any large pieces.
Add oil, breadcrumbs and 1/2 cup of shredded cheese to zucchini. Mix together thoroughly to create filling.
Distribute the filling mixture evenly into each zucchini boat. Top each boat with about 1/4 cup of pasta sauce, 1/4 cup of cheese and 1 tsp. of Italian seasoning.
Bake zucchini boats for 15-20 minutes, until zucchini is tender.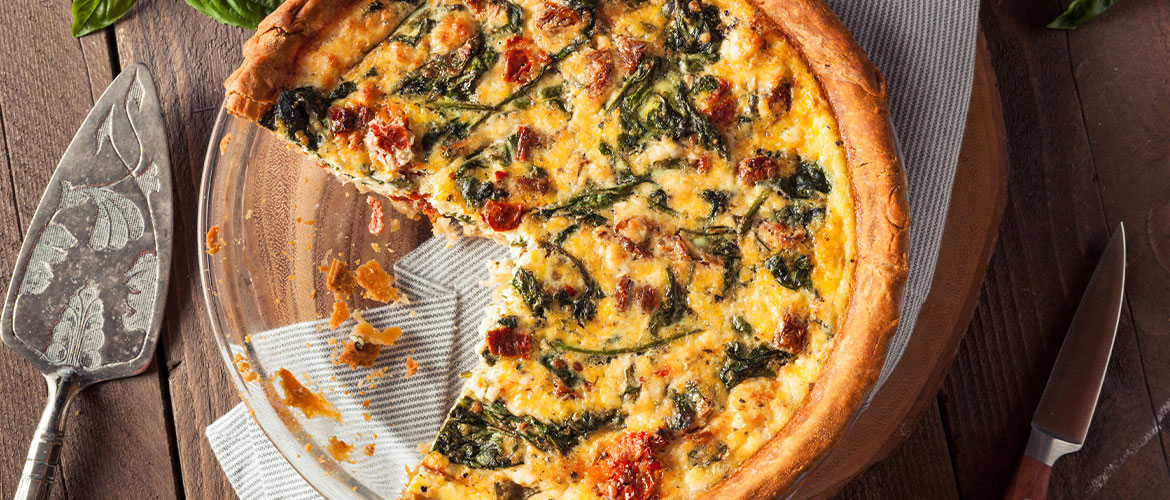 Recipe #3: Fresh Mushroom, Spinach and Red Pepper Quiche
Who doesn't love a good quiche? This versatile dish is perfect for breakfast, lunch or dinner – seriously! Plus, this flaky homemade crust is so easy to make, you'll be saying bye to processed, premade crusts. Serve this at with fresh orange juice at weekend brunch to wow your family and friends. 
Ingredients for homemade crust for 4 servings:
1 cup flour
1⁄2 tsp. salt
1/2 tsp. Italian seasoning
1⁄4 cup oil
1⁄4 cup ice water
Directions:
Preheat oven to 400 degrees. Mix flour, salt and Italian seasoning together in bowl.
In separate bowl, add oil and ice water together, then beat with fork to thicken.
Add water and oil mixture to dry ingredients and mix to form dough. If mixture is too sticky, add more flour, or if it's too dry, add a small amount of water.
Press the dough into a 9-inch pie pan.
Bake the crust for five minutes without quiche filling added.
Filling ingredients:
1 package white mushrooms
1 red pepper, diced
1/4 cup diced white onion
1 cup of spinach, sliced
6 large eggs
4 oz. feta cheese
1/2 cup cheddar cheese
1/2 tsp. minced garlic
1/2 tsp. salt
1/2 tsp. pepper
Directions:
While crust is baking, wash mushrooms, then slice into bite-sized chunks.
Dice red pepper and onion. Slice spinach into smaller pieces, if desired.
Lightly beat eggs together, progressively adding mushrooms, red pepper, onion, spinach, cheeses and garlic to the mixture.
Pour mixture into the crust once pre-baking is finished, then sprinkle salt and pepper on top.
Bake quiche for 40 minutes, or until crust is golden brown and filling is completely cooked.

Recipe #4: Pesto Sliders
The key to having a tasty sandwich? Choosing the right bread and having fresh ingredients! This artisan-style sub makes for a quick, easy lunch or light dinner. Pair it with a cold brew coffee to take the gourmet café vibe to the next level.
Ingredients:
1 package, ciabatta rolls
1 log, fresh mozzarella
1 tomato, sliced
1 tbsp. pesto
8 oz. bag of arugula
Directions:
Pre-heat oven or toaster oven to 425 degrees.
Slice ciabatta roll, if needed. Spread 1 tbsp. of pesto on the inside of the "top" roll.
Slice cheese log into 1-inch slices.
Layer cheese, tomato and arugula on sandwich as desired.
Toast sandwiches until rolls are golden brown and cheese is melted.
MedExpress Pro Tip: Slice these sandwiches in half to use as an appetizer or finger food at parties, or serve with soup or salad for a heartier option.  
Going meat-free doesn't mean you have to compromise on flavor. Try adding in meatless meals to your lunch or dinner and see just how good plant-based foods can taste.