Text
November 25, 2019
From in-patient hospital treatment to receiving services at standalone centers or even your home, there are several options for where you can receive infusion therapy. Now, select MedExpress locations are also an option with warm, welcoming infusion suites, providing a great alternative to typical hospital or in-home treatment. Staffed with specialty pharmaceutical-trained professionals, select MedExpress centers can provide quality IV infusion treatments in a safe and quiet environment.
Here are just a few ways our centers can change the way you experience your infusion therapy treatments.
#1: On-Site Medical Team
We'll ensure your safety and comfort every step of the way. Our locations with infusion therapy always have on-site providers and staff ready to answer any questions and provide immediate assistance in the event that additional medical care is required. Many in-home care services may not provide direct supervision from a provider when you're being administered medication through an IV infusion. When you visit a MedExpress infusion treatment center, you'll have peace of mind knowing our trained medical team will monitor you every time and will support you through every step of your treatment.
MedExpress Pro Tip: Parents can take a breather knowing our medical team is present during their child's infusion treatment.
#2: Private Treatment Room
Many people requiring infusion therapy treatments opt for in-home care. While your local MedExpress may not be as close as your living room, our centers with infusion therapy will make you feel right at home. All medication and medical equipment is ready to go in our center as soon as you walk in, which means no home deliveries, time-consuming set-up, lengthy in-home assessment, or extra planning required. Just walk in for your appointment, relax in your comfortable, private infusion therapy room, and enjoy snacks on us.
We also know that privacy is important, especially when you're not feeling your best. Why shouldn't your healthcare experience reflect that? At MedExpress, we provide our infusion therapy patients with their very own private room that is equipped with a refrigerator, snacks, and an extra chair for a guest to keep you company during your visit. During your IV infusion therapy, you can watch TV, connect your device to our high-speed WiFi, or just sit back, relax, and finally take that well-earned nap.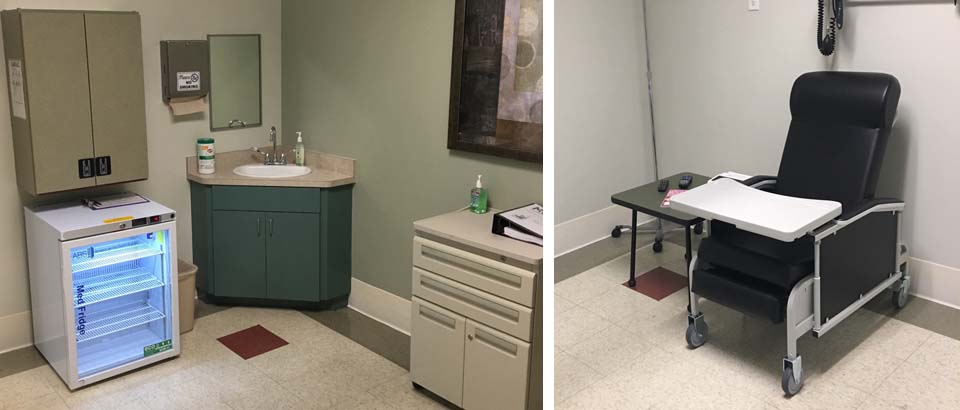 #3: Save Time and Money
Our participating MedExpress neighborhood medical centers are conveniently located and open 8-8 every day, allowing us to administer your IV infusion therapy treatment when it's the right time for you. Just schedule your appointment (details below) and we'll take care of the rest.
Also, with free parking at all of our centers, just steps away from the front door of your appointment, you can forget paying for on-street parking or having to find an empty spot in a crowded garage.
Trust MedExpress to get you out of in-patient and back to doing what you love.
What Are You Waiting For?
Ready to step into a warm, welcoming environment for your infusion therapy treatments?
Talk with your healthcare provider about receiving your infusion therapy treatments in one of our comfortable centers staffed by friendly and knowledgeable medical professionals. We currently offer medications to treat the following conditions:
Amyotrophic Lateral Sclerosis (ALS) 
Certain cancers 
Crohn's disease 
Cystic fibrosis 
Hepatitis B 
Hepatitis C 
Multiple sclerosis (MS) 
Rheumatoid arthritis (RA) 
Ulcerative colitis 
MedExpress currently offers infusion therapy services in select Florida and Indiana locations for those with UnitedHealthcare or Humana insurance. Patients will need to have pre-authorization from their UnitedHealthcare or Humana plan before receiving treatments. Learn more about our infusion center locations and see a complete list of offered medications. To schedule an infusion therapy treatment with us, call 877-306-4036 or email contact@briovarxinfusion.com.