Text
July 16, 2018
Whether your employees are working outdoors every day or on a temporary basis, rising temperatures are bound to find them this summer. In a 10 year study by the Environmental Protection Agency (EPA), there were a total of 28,000 heat-related hospitalizations in the 20 states surveyed.1 While most people look forward to warmer summer temperatures, being in hot environments for long periods of time can cause a variety of heat-related illnesses, like heat rash, heat cramps, heat exhaustion, or heat stroke. By reducing the exposure your employees have to the heat, you can help lessen the risk of them falling ill.
Why is Heat Hazardous?

As an employer, you might be wondering how heat affects your workers on the job compared to a regular day spent in the heat. When you're working in a hot environment, your body sheds excess heat to maintain a stable internal temperature. The most common way your body does this is by sweating.
However, there are factors that can reduce the effectiveness of your body's ability to sweat, like high humidity. When your body cannot sweat to remove excess heat, it stores the heat internally. This increases the body's core temperatures and causes the heart rate to increase. At this point, your employees may begin to find it difficult to concentrate on the task at hand, or may become irritable or sick. Often times, those experiencing increased core temperature will faint. This is known as heat syncope, and typically occurs from prolonged standing, dehydration, and lack of acclimatization to the heat.
MedExpress Pro Tip: If you or an employee are feeling dizzy or lightheaded, it is best to sit or lie down in a cool place and slowly drink water or a sports drink.
Who is Affected by Heat?

Simply put, any worker exposed to hot environments can be affected. However, there are some factors that make workers more susceptible to heat-related illness:
Strenuous activity
Heavy or non-breathable clothing or equipment
Direct sun exposure
Limited air movement from wind or ventilation
Age. Did you know? People ages 65 and older accounted for the most heat-related hospitalizations, according to a study by the EPA.1
Gender. Men are at a higher risk for heat-related illnesses than women because they are more likely to work in an outdoor setting.1
Other conditions that are related to risk include obesity, certain medications, and those with underlying health conditions such as lung and heart disease. 
As an employer, it is important to keep in mind that new employees or those just returning from time away from work are especially vulnerable to hot environments. In a 2005 study, OSHA found that 80 percent of heat-related illness incidents involved workers that had only been on the job for less than four days.2 Remember to help workers acclimate to the heat by gradually increasing their workload in the heat to allow them adequate time to adjust. Set aside time for more frequent breaks with drinks and shade.
Not sure how to help your employees adjust to the heat? OSHA recommends developing an "acclimatization program" that will gradually increase the employees' workload over the course of 14 days. Start with 20 percent of the workload on the first day and slowly increase their workload by no more than 20 percent each following day.3
MedExpress Pro Tip: Even experienced workers need to get acclimated to the temperature during a heat wave or excessively hot weather. Start the first day with 50 percent of a typical workload, 60 percent on the second day, 80 percent on the third day, and going into the fourth day with 100 percent of the typical workload.
What Can Employers Do?
Under the OSHA law, employees are required to provide a workplace free of known safety hazards.4 The good news is that most heat-related health problems can be prevented by reducing their risk of developing. With these tips, you and your workforce will be able to sail through the summer.
Accessible Water: Provide workers with access to cool and portable drinking water. There should be enough for each employee to have one cup every 15 minutes, which is a quart per hour. Keep extra water on hand for when you run out, and encourage employees to drink before they are thirsty.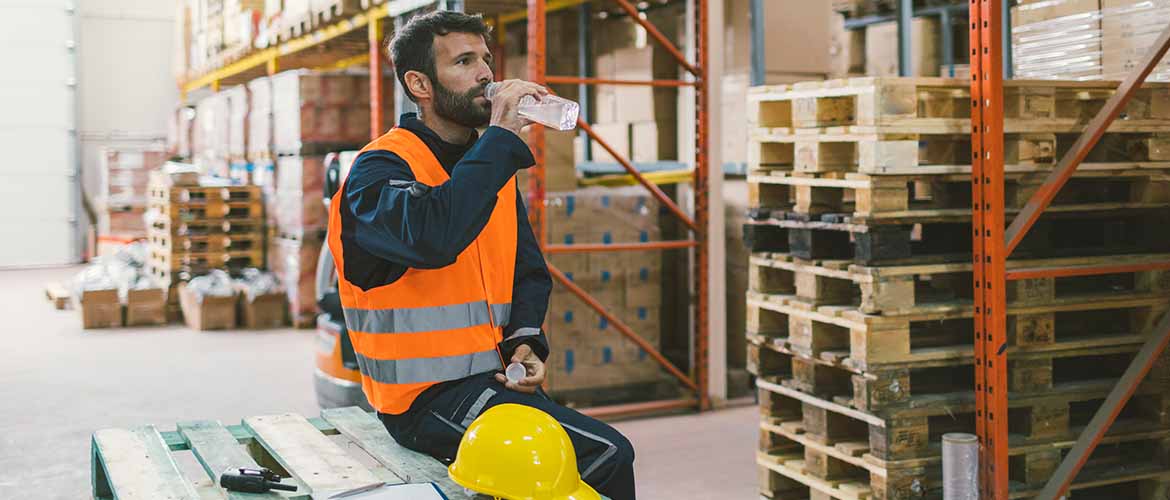 Backup Beverages & Snacks: Sometimes, water just isn't enough. To replenish electrolytes, keep sports beverages stocked during times of increased heat. When looking for a sports drink, look for one that contains between six and eight percent carbohydrates as they are the most effective and efficient at hydrating.5 When it's hot, your appetite can suffer. Eat smaller meals and avoid foods that are hard to digest.
Embrace Shade: Make sure that you have at least one area of shade large enough to shelter all of your employees at all times. If you need more shade, it's wise to invest in canopies for additional coverage, especially since the sun's rays are strongest between 10 a.m. and 4 p.m. Aim to have this area in close proximity to the worksite so employees can rest quickly and efficiently.
Change In Schedule: Don't be afraid to change work schedules as appropriate. It will benefit your employees to perform the most physically demanding work during cooler times of the day. Reschedule non-essential work for less hot and humid days, and use split shifts to accommodate temperatures.
It's Best To Rest: Schedule regular rest breaks for your employees. While there's no standard for the length of time each break should last, we recommend up to 30 minutes every hour in extreme conditions. 
Even with the best of prevention tactics, heat-related illness can still occur. If you believe one of your employees is experiencing a medical emergency, call 911 immediately. It's better to be safe than sorry.
---
References:
1 EPA: Climate Change Indicators: Heat-Related Illnesses. Updated August 2016. Accessed June 4, 2018.
2 OSHA: Using The Heat Index: A Guide for Employers. Accessed May 23, 2018.
3 OSHA: Acclimatizing Workers. Accessed May 23, 2018.
4 USDOL: Occupational Safety and Health Administration: Workers. Accessed May 23, 2018.
5 RunnersConnect: How Much Sugar Should Your Sports Drinks Contain? Research on Carbohydrate Concentration, Sugar Combination and Impact on Marathon Performance. Accessed June 8, 2018.
MedExpress CTA Module
choose your own summer adventure
Embrace the season with these helpful health tips and more!
VIEW OUR GUIDE