Text
March 16, 2022
Are you preparing for your employees to come back to your workplace or just seeking some ways to make it safer for your existing employees? MedExpress has studied Occupational Safety and Health Administration and Centers for Disease Control approved protection measures to share actionable safety tips and give you and your employees peace of mind.
Apply Hierarchy of Controls to Assess COVID-19 Risks
In the world of occupational safety, the hierarchy of controls is a system that can help determine the best way to reduce risks in the workplace. This term refers to the fact that there is often more than one solution to the problem, and some solutions may be more helpful than others.
For example, sometimes the best way to control a hazard is to systematically remove it from the workplace, rather than relying on workers to reduce their exposure1. While it may not be possible for employers to remove the hazard during the pandemic, there are several protective measures both employers and employees can take that may be effective in limiting its impact.
What Are the Most Effective COVID-19 Protection Measures to Use?2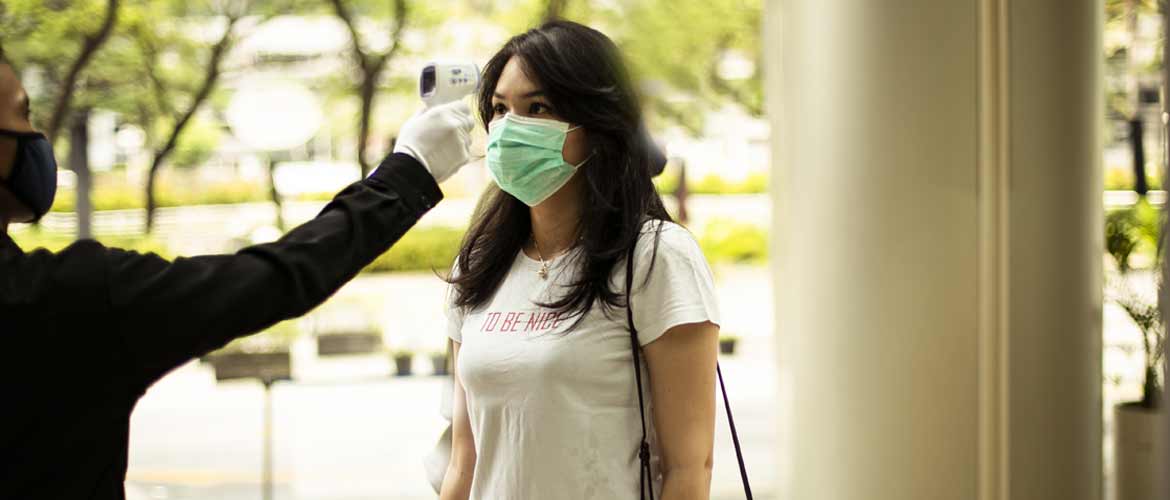 Listed from most to least effective, they are:
Engineering controls
Administrative controls (develop an infectious disease response plan)
Safe work practices (a type of administrative control)
Personal Protective Equipment (PPE)
Engineering Controls
These types of controls isolate your employees from work-related hazards. They also reduce exposure to hazards without relying on changing their behavior and can be amongst the most cost-effective to implement.
These are some steps that we recommend:
Install high-efficiency air filters.
Increase ventilation rates in workplaces where customers are present, mark six-foot distances with floor tape in areas where lines form, use drive-through windows or curbside pickup, and limit the number of customers allowed inside at one time.2
Move or reposition workstations to create more distance.
Install physical barriers, such as clear plastic sneeze guards.
Administrative Controls
These controls are changes in work policy or procedures to reduce or minimize exposure to a hazard. For example, creating an infectious disease plan would be considered an effective Administrative Control. If such a plan does not already exist, your company should develop one to help guide protective actions against COVID-19.
As part of this plan, employers should:
Include occupational and non-occupational risk factors.
Be aware of federal, state and local guidelines as well as industry-related changes and updates. Consider how you may incorporate these recommendations and resources into your plan.
Identify and isolate sick people when appropriate.
Allow for a flexible work environment to help keep employees safe.
Minimize contact among workers, clients and customers by replacing face-to-face meetings with virtual communications and implementing telework, if feasible.
Create options for conducting essential operations that may include a reduced workforce and cross training workers across different jobs in order to continue operations or deliver surge services.
Discontinue nonessential travel to locations with ongoing COVID-19 outbreaks. Be sure to regularly check CDC travel warning levels.
Develop emergency communications plans, which could include a forum or hotline for answering workers' concerns and internet-based communications, if feasible.
Provide workers with up-to-date education and training on COVID-19 risk factors and protective behaviors (e.g., cough etiquette and care of PPE).
Safe Work Practices
These types of protection measures include procedures for safe and proper work that may reduce the duration, frequency or intensity of exposure to a hazard. These controls are direct asks of your employees that will change the way that they work and interact.
To help reduce the impact of COVID-19, businesses should consider the following measures:
Practice social distancing at all times.
Allow employees to work from home, whenever possible.
Encourage them to stay home when they are sick.
Promote frequent handwashing by providing workers, customers and worksite visitors with a place to wash their hands. If soap and running water are not immediately available, provide hand sanitizer containing at least 60 percent alcohol. Workers should always wash hands when they are visibly soiled and after removing any PPE.
Make sure employees follow respiratory etiquette by covering coughs and sneezes.
Keep workstations sanitized. If possible, don't share workstations, phones, desks or equipment.
Maintain regular housekeeping practices, including routine cleaning and disinfecting of surfaces, equipment and other elements of the work environment. When choosing cleaning chemicals, employers should consult information on Environmental Protection Agency (EPA)-approved disinfectant labels with claims against emerging viral pathogens.
Explore flexible worksites (e.g., telecommuting) and flexible work hours (e.g., staggered shifts) to increase the physical distance among employees and between employees and others.
Stagger breaks and re-arrange seating in common break areas to maintain physical distance between workers.
Encourage workers to bring any safety and health concerns to the employer's attention.
Reduce the number of employees within common areas at any given time.
Personal Protective Equipment
While engineering and administrative controls are considered more effective in minimizing exposure to COVID-19, correctly used PPE may also be needed to prevent certain exposures. However, it should not take the place of other prevention strategies.
Examples of PPE include gloves, goggles, face shields, face masks and respiratory protection, when appropriate.
Those who need to use protective clothing and equipment must be properly trained on how to put PPE on, use and wear it, as well as how to safely remove it within the context of their current and potential duties.
During an outbreak of an infectious disease, such as COVID-19, recommendations for PPE specific to occupations or job tasks may change depending on geographic location, updated risk assessments for workers and information on PPE effectiveness in preventing the spread of COVID-19. Employers should check the OSHA and CDC websites regularly for updates about recommended PPE.
Because of COVID-19, When Should Your Employees Wear a Face Mask or Covering?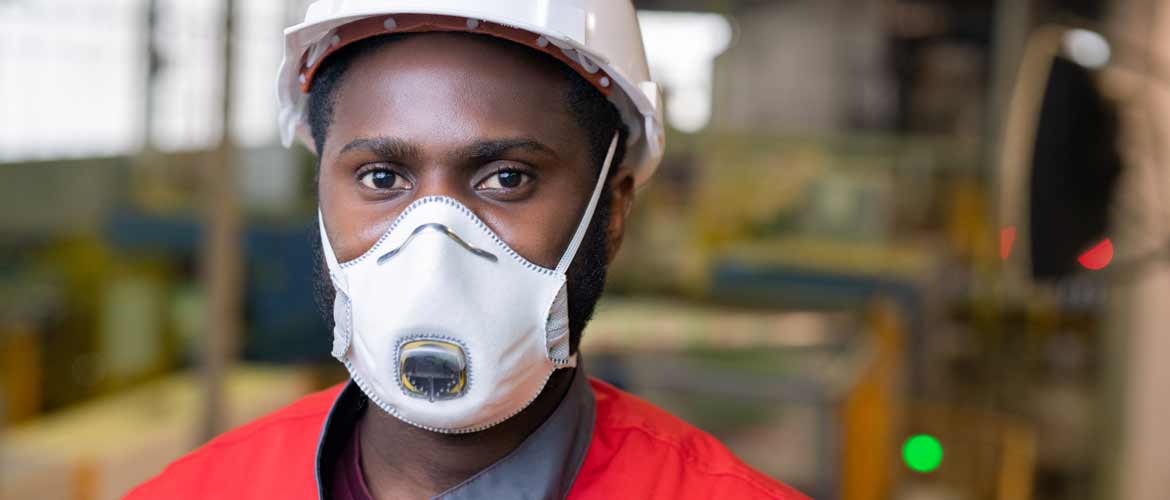 Employers should follow state and local public health officials' recommendations for the wearing of a face mask or covering, which limits the spread of the respiratory secretions of a person who may have COVID-19. They should provide face masks or coverings, if feasible and available, and ask employees to wear them.
A face mask or covering (also called a surgical mask, procedure mask or other similar terms) on a patient or other sick person should not be confused with PPE for a worker. These masks act to contain potentially infectious respiratory secretions at the source (i.e., the person's nose and mouth).
If your company defines masks as PPE, OSHA mandates that your employees must wear N95 masks and complete a respirator questionnaire to be compliant.3 To learn how we can help navigate this with your workforce, call us today at (833) 317-9192.
Evaluating COVID-19 Risk Levels in the Workplace
OSHA has determined four risk levels for the workplace. As workers' job duties change or they perform different tasks in the course of their duties, they may move from one exposure risk level to another. These risk levels are:
Very High Risk
This level includes healthcare workers who are performing aerosol-generating procedures on COVID-19 patients, healthcare or laboratory personnel collecting and handling COVID-19 specimens and morgue workers performing aerosol-generating procedures on the deceased bodies of COVID-19 patients.
High Risk
This level includes healthcare and medical transport workers who are in direct contact with COVID-19 patients.
Medium Risk
Anyone whose job brings them within close contact to those that may be infected with COVID-19 falls into this category.
Low Risk
Finally, this level is made up of employees whose work doesn't require close contact with the general public or with anyone known to be infected with COVID-19.
Additional Examples of Workers Who May Have Increased Risk of Exposure to COVID-19:
Other types of health care positions (including pre-hospital and medical transport workers, allied medical care professionals and support staff)

Emergency response (e.g., emergency medical services workers, firefighters and law enforcement officers)
Other postmortem care positions (e.g., funeral directors)
Research or production laboratory workers
Airline operations
Retail operations, particularly those in critical and/or high-customer-volume environments
Border protection and transportation security
Correctional facility operations
Solid waste and wastewater management
Environmental services (i.e., janitorial)
In-home repair services
Occupations that involve travel to areas where the virus is spreading
Pastoral, social or public health workers in jobs requiring contact with community members who may spread the virus
Transit and delivery drivers, depending on their degree of close contacts with the public
The health and safety of your workforce should be essential at all times. MedExpress can help. We offer a range of workplace resources, such as occupational medicine, worker's compensation needs and asymptomatic COVID-19 testing, as well as health and wellness offerings that include, but aren't limited to, biometric screenings and educational handouts.
Originally published June 2020. Updated March 2022.
---
References:
1 OSHA: Guidance on Preparing Workplaces for COVID-19. Accessed March 7, 2022.
2 OSHA: COVID-19 Control and Prevention. Accessed March 16. 2022.
3 OSHA: U.S. Department of Labor Issues Alert on Social Distancing To Keep Employees Safe at Work During the Coronavirus Pandemic. Accessed March 7, 2022.
4 OSHA: Respiratory Protection Guidance for the Employers of Those Working in Nursing Homes, Assisted Living, and Other Long-Term Care Facilities During the COVID-19 Pandemic. Accessed March 7, 2022.